Brazil and Paraguay soybean harvest forecast downgraded because of lack of rain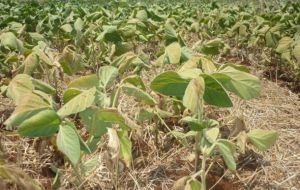 Oil World cut its forecast for Brazil and Paraguay soybean production, extending the run of downgrades amid ideas that rains in the last two weeks has been insufficient to put a hold on crop losses.
The influential German analysis group trimmed its estimate for the Brazilian harvest by 500.000 tons to 69.5m tons. The downgrade put it in line with a 69.2m tons estimate from Conab, Brazil's official crop bureau, but below the 72.0m tons forecast by the US Department of Agriculture, whose data set world benchmarks.
And Oil World slashed by 1.4m tons to 4.6m tons its forecast for the harvest in Paraguay, the world's fourth-ranked exporter of the oilseed, which the USDA sees producing 6.4m tons.
"[There was] very little rainfall received in southern Brazil, Paraguay, Uruguay and Argentina and very little expected in the next few days, further stressing developing soybeans and other crops" the German-based group said.
The downgrades more than offset a 500.000-tons lift, to 47.0m tons, in Oil World's forecast for the Argentine soybean harvest.
The downgrades cast doubt on hopes that improved rains for some areas, such as central Argentina, which received "moderate but scattered showers" on Monday according to WxRisk.com, could reverse the spate of South American crop downgrades.
The Australian Bureau of Meteorology said that the La Nina weather pattern blamed for weather extremes in South America, and elsewhere, "showed some signs of weakening over the past fortnight as the tropical Pacific Ocean warmed".
However, the La Niña is to retain climatic influence "over the coming months".
Martell Crop Projections said that "intense heat and dryness is persisting in south Brazil soybean states Parana and Rio Grande do Sul", where soybean potential was "bad and fast growing worse with little rain in the forecast".
While Argentina's central grain belt may receive "extremely heavy soaking rains" this weekend, "south Brazil continues to struggle with only light and scattered rain".
USDA officials said on Friday that rains was "urgently needed" in Rio Grande do Sul "to ease the stress" on soybeans.
Further north, in central Brazil, too much rain has been a problem for much of the season, raising fears for the spread of rust, a concern which Oil World also highlighted on Tuesday.
A recent drier spell has enabled growers to press on with harvesting, getting more than 13% of soybean crops in the silo last week alone in the top producing state of Mato Grosso, to bring the total completed to 24.3%.