Brazil main airline betters profits; prepares to join one of the world's largest carriers
Thursday, February 16th 2012 - 07:13 UTC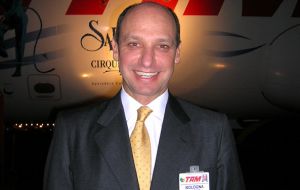 TAM, Brazil's largest airline, reported a fourth-quarter profit on rising ticket prices, fanning expectations of more profitable operations in the year ahead despite recent cost pressures.
TAM posted net income of 95.5 million Reais (56 million dollars) in a securities filing, down 36% from a year earlier as higher fuel prices and a weaker currency pressured costs.
The airline rebounded from a 620 million Reais loss in the third quarter, in part because of improved pricing. TAM boosted the spread of revenue over costs for each kilometre that its passengers travelled by 32% from the third quarter, even as unit fuel costs jumped 27%.
The improved profitability indicators and a more modest fleet plan suggest TAM has learned from a bruising fare battle with rival Gol Linhas Aereas. TAM said last month that it was cutting back its fleet and focusing on the profitability of existing routes as it sees 2012 air traffic growth slowing to half of last year's pace.
"Our main objective is to maintain a balance between market share and profitability," Chief Executive Officer Marco Antonio Bologna said in the earnings statement.
Though slowing, growth in Brazil is still on pace to beat the expansion of civil aviation globally. But the sharp slowdown reflects a harsh new reality of congested airports, high fuel prices and a glut of new capacity in a Brazilian industry that was booming for years.
TAM booked a 335 million Reais loss for 2011. Fuel and labour costs eroded profitability, while the airline fought to hold on to market share as competitors ramped up flights.
The quarterly results may be the last TAM files, analysts say, before the airline delists its shares as part of a takeover by Chile's LAN Airlines to create one of the world's largest carriers.
The deal has received conditional regulatory approval and is expected to pass a vote by TAM shareholders next month.
The new LATAM Airlines Group will fly passenger and cargo flights to 115 destinations stretching from Frankfurt to Sydney.
LAN's and TAM's revenue exceeded 10 billion dollars in 2010, and their combined market value is second only to Air China among the world's airlines.