Argentina/UK 2011 bilateral trade totalled 1.4bn dollars; could suffer 'Malvinas' dispute impact
Tuesday, February 21st 2012 - 21:07 UTC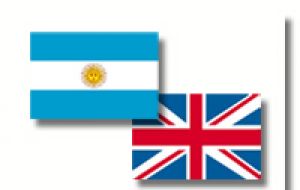 A private Argentine report warns that the current diplomatic dispute over the Falklands/Malvinas could have an impact on bilateral trade with the UK which last year totalled over 1.4 billion dollars with a 150 million surplus for Buenos Aires.
According to consultants Desarrollo de Negocios Internacionales, DNI, with seat in Buenos Aires, of Argentina's ten export markets exposed to tension and uncertainty the most significant is Great Britain, which absorbs 7.5% of all sales to the European Community.
"Exports to the UK are exposed to the current diplomatic conflict situation over the Malvinas Islands sovereignty" points out DNI.
Argentine exports to the UK totalled 805 million dollars, while imports reached 655 million dollars with a surplus for Argentina of 150 million dollars.
The list of 'problem markets' includes Greece, Iran, Iraq, Syria, Egypt, Libya and Nigeria, although in all these cases they refer to domestic problems of the listed countries.
These markets together with the UK represented 9 billion dollars in Argentine exports in 2011. Last year Argentina had an overall trade surplus of 10.347 billion dollars compared to 11.632 billion in 2010. The UK ranks as the seventeenth supplier, in value, to Argentina and figures in position 26 regarding Argentine exports.
The main Argentine exports to the UK are soy oil, soy flour, wine, corn, oil pipes, some chemical products and peanuts. Among UK corporations operating in Argentina directly or through associates figure Shell, BP, Cadbury, Sweppes, Diageo, Nobleza Piccardo and HSBC among others.
The list of main corporations exporting from Argentina to the UK includes Cargill, Alumbrera mining, Anglo-Swiss Xstrata; Louis Dreyfus and Ford among others, according to the DNI report.