Falklands' Desire Petroleum participating at North American Prospect Expo in Houston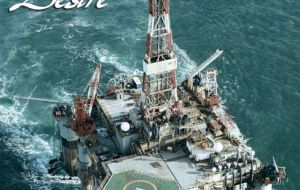 Falklands' oil explorer Desire Petroleum Plc (AIM:DES) will be making presentations this week at the North American Prospect Expo (NAPE) in Houston.
The final processed 3D seismic volume covering licences PL003, PL004 and the majority of PL005 has now been received. These data will be used for a re-assessment of the prospect inventory and the results of this work are expected later in the year, said Desire Petroleum in an official release.
Desire is also updating the Competent Persons Report that was prepared in October 2011, incorporating the 14/15-4a well results. The results from this re-evaluation of the discovery area will be published in the near future.
The CPR covered 40% of Desire's northern licences Tranches C, D and F and focused on the areas of the fast-tracked fully processed 3D data covering the northern part of Tranche D (PL004) and the Ann prospect sub-area within Tranche C (PL003).
The Nape presentation and exhibition material have been posted on the Desire website:www.desireplc.co.uk.
In November, Desire Petroleum said that the Ocean Guardian drill rig would remain under contract to it in the Falklands until March 1 2012. The Ocean Guardian has drilled all the wells for fellow explorer Rockhopper Exploration and Desire through their respective exploration programs in the Falklands.
Desire so far has completed a 6 well exploration program. The 14/19-1 Liz well encountered dry gas and gas condensate at 2 separate levels while other wells recorded shows. The 14/15-4a farm-out well proved the southern extension of the Sea Lion and Casper discoveries and encountered hydrocarbons in the Beverley and Casper South (Shona) reservoirs. The resource potential of these discoveries is currently under evaluation.
The Sea Lion oil discovery and associated Casper/Casper South/Beverley reservoirs provide significant encouragement for the future potential of the North Falkland Basin. These successful play types are part of the east flank play which extends southwards in Desire operated acreage.