One of Argentina's wealthiest women dedicated to philanthropy and art buried in Buenos Aires
Tuesday, February 21st 2012 - 05:03 UTC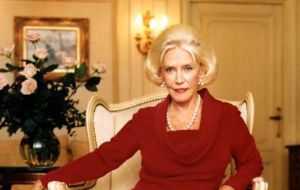 The remains of Argentina's wealthiest woman, María Amalia Sara Lacroze Reyes Oribe de Fortabat Pourtale was buried Sunday at the Recoleta Cemetery, where an official service was held after family and friends attended a private funeral ceremony.
One of Argentina's wealthiest women, Amalia Lacroze de Fortabat, who ran the country's biggest cement maker before dedicating herself to art and philanthropy, died of "natural causes" at her home in the Palermo neighbourhood, her family said yesterday. She was 90.
Known as "the cement lady," Fortabat ran concrete and cement maker Loma Negra for nearly 25 years after her husband died in 1976, before selling it to Brazil's Camargo Correa group in 2005 for around one billion.
"Mrs. Fortabat was a clear leader in the growth and development of Argentine industry," her family said in a statement, which added that she was one of the country's most active supporters of charities through the Fortabat Foundation. The family thanked the public for their "messages of love and support."
Known among close friends as "Amalita," Fortabat was named "Ambassador-at-Large" by former president Carlos Menem, a title removed in 2005 by then-president Néstor Kirchner. She was also a philanthropist and supporter of the arts.
Born on August 15, 1921, María Amalia Lacroze de los Reyes Oribe was the widow of Fortabat Pourtale, and granddaughter of transport tycoon Federico Lacroze, who established the first tramway in Buenos Aires, and of Uruguayan politician Manuel Oribe.
She spent her childhood in Paris where she was schooled in both French and English.
At 21 she married lawyer Hernán de Lafuente Sáenz Valiente, with whom she had her only child, María Inés. The couple later divorced. In 1941 she met Alfredo Fortabat, owner of a cement maker in Loma Negra in Buenos Aires province. They married in Uruguay in 1947, a scandal at the time as he was 30 years her senior. They were together for 30 years until his death in 1976.
During the military dictatorship of the late 1970s, Loma Negra experienced a windfall in profits after being contracted to build several motorways and sports stadiums.
During the presidency of Ricardo Alfonsín in the 1980s, Loma Negra was contracted as the exclusive provider to build El Chocón, Yacyretá, and Salto Grande hydroelectric projects.
In the 1990s, "Amalita" was granted the concession of the cargo train connecting Río Negro's Alto Valle with Buenos Aires, a strategic route connecting Loma Negra's factories.
During her extensive business career, Fortabat owned various agricultural companies in addition to a newspaper, a soccer club, and managed real-estate property investment worth millions. Her passion for the arts resulted in an extensive collection of valuable pieces from both the local and international markets.
She also spent several years at the head of the Federal Police Foundation and owned Ecocemento, Lomax, Recycomb, Ferrosur Roca, and Estancias Unidas del Sur, among other assets. She was also president of the National Arts Fund and the founder of the Teatro Colón Foundation.
At the age of 54 she assumed not only responsibility for her husband's company but also a massive fortune that included various companies, ranches, cattle, aircraft, and artwork.
In 1976 she inaugurated the Alfredo Fortabat and Amalia Lacroze de Fortabat Foundation (later renamed the Amalia Lacroze de Fortabat Foundation), whose objective is to promote initiatives and works of an educational, artistic, cultural, or philanthropic nature.
She acquired a majority shareholding of La Prensa newspaper in 1993, and was also involved with El Mundo and Horizonte radio stations.
The Fortabat Museum was finished in 2001 and houses approximately 400 pieces of art that were part of her private collection, including works by Marc Chagall, Salvador Dalí, Joan Miró and Andy Warhol. In 2005 at the age of 84 Fortabat sold Loma Negra to Brazilian group Camargo Correa for nearly one billion dollars. She sold her exclusive Manhattan penthouse apartment atop the Pierre Hotel for more than 20 million dollars.
Her health started to deteriorate after breaking her hip in 1999 after a fall; in 2008 she was sent to the FLENI clinic in Buenos Aires after suffering heart problems.