Timerman Falklands 'militarization claim' with little echo at UN admits Argentine press
Tuesday, February 21st 2012 - 22:41 UTC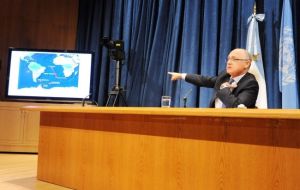 The Argentine minister Hector Timerman presentation before the United Nations claiming the "militarization of the South Atlantic" from the Falklands by the UK does not seem to be having the expected echo according to press reports from Buenos Aires, based on correspondents' contributions from New York.
So far the Argentine presentation has not generated 'a single international condemnation, verbally or through a resolution' as had been anticipated by Minister Timerman in his reports to the government of President Cristina Fernandez.
On the contrary the reply from the UN building in New York has been a resounding silence, while in Washington the US government denies any militarization in the South Atlantic and the Republican opposition in the midst of a presidential campaign is accusing President Obama of not standing up to its allies. Presidential hopeful and former governor Mitt Romney is demanding that President Obama clearly aligns with Great Britain.
Furthermore "if the Timerman presentation was to organize more pressure on the UK to sit and negotiate, the British government used the Argentine claim as a platform to once again proclaim that the sovereignty of the Falklands is not negotiable and will not be as long as the Islanders so wish to remain British".
The press offices from UN Secretary General Ban-Ki moon and the General Assembly president Nassir Abdulaziz Al-Nasser sent out official releases following their meetings with Timerman, but none of them makes reference to the increase of UK naval power in the South Atlantic. The president of the Security Council, Kodjo Menam didn't even bother to make a release on the meeting, according to Argentine press correspondents in New York.
It took the President Obama administration two days following Timerman's claim to clearly establish that the US "does not have any reason to question" the alleged British 'militarization' of the South Atlantic. "The UK has made clear to us and to the Argentines that what they are engaged in, in a naval capacity is normal and is typical for this time of year. So we don't have any reason to question that", said Ms Victoria Nuland, Stated Department spokesperson.
This however did not impede presidential hopeful Mitt Romney main advisor Robert O'Brien from claiming that President Obama is 'not reliable' to its allies. "He has not been with Israel regarding Iran and he is not being with Great Britain in the issue of the Falklands, and all the fuss the Argentines are making over that".
Last but not least apparently there was no "mediation" offer, as reported in Buenos Aires, but rather a reiteration of the "good offices" from UN Secretary General Ban Ki-moon, as established by a UN general assembly resolution. The assembly president said he was "willing to coordinate among both sides if the countries so request it", with no mention of the word mediation.