Falklands' government oil revenue of 180bn, only the 'best case' scenario
Wednesday, February 22nd 2012 - 02:42 UTC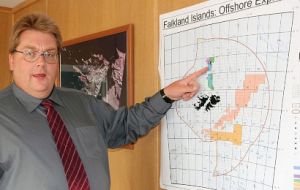 The Falkland Islands Director of Minerals Stephen Luxton said that estimates published last week in the UK, of revenue of 180 billion dollars for the Falklands Government from oil production are only a "best case" scenario since in spite of great potential, the only true test is the drill bit.
Estimates in royalties and taxes were published in a report from UK market and investment analyst Edison Investment Research, adding that a successful 2012 drill campaign will be a "game changer" not just for the companies involved but the Falklands as a whole.
"I think the important part was the several 'could be'. It's very much potential since the only significant discovery there is at the moment is Rockhopper's Sea Lion and the associated ones that are in that area. There are a lot of prospects in the rest of the area, some very big ones, many of which haven't been drilled and that's the crux of it really: the only true test is the drill bit", said Stephen Luxton.
He added that at the moment a lot of those numbers are based on prospects being mapped on seismic surveys and "we won't know the truth until such time as those are drilled, the next six months will be a very interesting time".
Luxton went on to say that it all comes back to the word "potential".
"If all the potential prospects come in as positive then the potential upside for the Falklands is very substantial but it's unlikely that they will all come in and it remains to be seen which ones may do and what that means for the Falklands".
Nevertheless Luxton feels that even the Sea Lion success case, if that proceeds through development the potential revenue to the Falklands is quite substantial. "Clearly there are some bigger prospects out there which may bring bigger benefits, but we'll have to wait and see, I think". (FIRS).-