Train crash in Buenos Aires leaves 49 dead and at least 600 injured
Wednesday, February 22nd 2012 - 18:19 UTC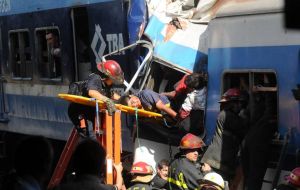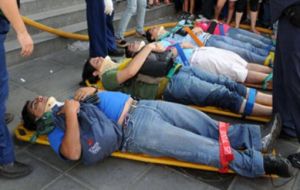 At least 49 people were killed and 600 injured after a train crashed early Wednesday morning while pulling into one of Buenos Aires main railway stations, city officials confirmed.
A 7-year-old boy was amongst the first reported fatalities as he remained trapped inside one of the front carriages for almost three hours. Emergency teams concluded the rescuing of victims from the wreckage, sending critically injured to local hospitals to be treated. Paramedics were also treating victims at the scene.
The head of the emergency services Alberto Crescenti said that the amount of people injured had increased to "at least 600."
After the crash at least 100 people were pulled out of the wreckage and taken to nearby hospitals to be treated. Sources at the scene said that rescue activities were non-stop and that there were many injured passengers sat in the station hall waiting to be moved to hospital.
Argentine Transport Secretary Juan Pablo Schiavi was present at the scene and earlier described the accident as "terrible."
The train crashed when it was moving into the station, as it failed to stop at the lights and collided into the platform. Schiavi told reporters "it was moving at a speed of 26 kilometres per hour when entering the station, however when it crashed, it had slowed down and was travelling at 20 kilometres per hour."
He went on to say "the impact of the crash caused the second carriage to be pushed 6 metres into the first carriage of the train."
The Once station, located in the heart Plaza Miserere is one of Buenos Aires' central train stations. The state-run TBA Sarmiento train line runs from Moreno to Once station, and was filled with passengers on their daily commute.
Wednesday commuter tragedy in the Once station is considered among the three worst in Argentine history, behind the 1979 Benavidez accident when two trains collided head on with 148 killed and 368 injured.
In 1978 the North Star express with 2.130 passengers crashed into a truck with a load of 25.000 kilos that was trying to cross the rails. The result was 55 killed and 56 injured.
The safety record of Argentine trains is not encouraging in spite of the terrible accidents.
A year ago a local train collided with a long distance train, leaving four people killed and over a hundred injured. Last April another 70 were injured when a locomotive and a train crashed and on 18 August 70 people were injured when a train crashed into a local bus.
September last year two trains and a bus were involved in an accident in the outskirts of Buenos Aires leaving 11 people dead and over 200 injured. Finally last November, in the northern province of San Luis a train ran into a minibus with school children killing eight.