Protesting police take over main provincial station in the north of Argentina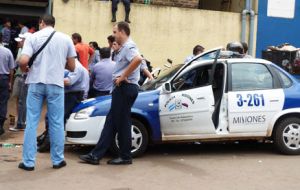 Rioting police in the north of Argentina took over their main communications centre in Posadas, capital of the province of Misiones as they claimed for better working conditions and a salary hike. Likewise, the policemen requested to be allowed to unionize their men.
More than 700 police officers -including retired officers and fire fighters- are involved in the take over of the premises of the Comando Radioeléctrico located in downtown Posadas. Outside the building dozens of relatives of the protestors camped and spent the night chanting protest songs and slogans.
The protest started Tuesday night at 23:00 hours when a group of 300 policemen broke into the Police Station claiming a salary hike as well as lifting the suspensions issued to seven officers for having tried to unionize the force. As the night went on, officers from all over the province started to arrive to join the measure. Wednesday morning protestors were close to 700.
Judge César Yaya visited the headquarters along with Misiones Security Under-secretary Julio Lezken, and Chief Police Benjamín Roa.
Afterwards, Yaya tried to minimize the conflict. "It's not a big protest. I have not seen too many officers inside". However as he talked to the press new protesters were arriving from different provincial police and fire stations.
Meanwhile, Lazken explained that a salary hike "depends on the national collective bargaining talks", and emphasized that "sanctions to officers won't be lifted."
Protestors are claiming for a salary floor of 2,000 Pesos (approx 500 dollars), the lift of all sanctions issued as well as the possibility of creating a police provincial union, new uniforms and equipment, and seniority rights.