Spanish corporations freeze investment in Latam fearing the global crisis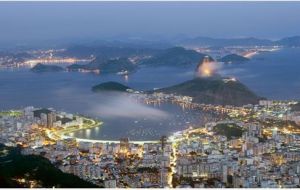 Spain's main corporations are freezing investments in Latinamerica this year with no chances of an increase given the risk of the global financial crisis hitting negatively in the region, particularly Brazil and Mexico.
According to the report, "2012: investment scenario in Latinamerica" compiled by IE Business School together with the different chambers of commerce and Spanish embassies, 70% of Spanish companies operating in Latinamerica believe the global crisis will have an impact on the region and "with greater intensity than in previous occasions".
However the report also indicates that the big European corporations are promoting and attracting more and more investments to Latinamerica from EU small and medium companies, and that precisely the worsening of the crisis in the EU will make them to bet in the emerging markets.
IE Business School professor Juan Carlos Martinez, who drafted the report, said that the small and medium sized companies which had worked out a position in Europe since it was an attractive market because of the common currency will be arriving in Latinamerica in search of a more sustained economic growth.
The crisis "will force the internationalization towards Latinamerica because that is where the prizes are" and although the rate of expansion has decelerated in the region, "in no way is it as severe as was anticipated".
Brazil remains as the most attractive market to invest in Latinamerica and 88% of companies surveyed believe that the World Cup in 2014 and the Olympic Games in 2016 are strong stimuli for expansion.
The survey also shows most companies discard an over heating of the Brazilian economy that could lead to problems or misbalances, rather the country will continue to grow albeit at a slower pace.
Colombia is seen as another target for Spanish companies to increase investments since there is a notorious upgrade in rule of the law and in labour capability which has turned the country into a most attractive destination for business.
Peru, Chile and Mexico remain with a 'stable' attraction for Spanish investors.
At the other end figure Bolivia, Ecuador and Venezuela because they are subject to political instability, lack of infrastructure, questionable rule of the law and a serious problem with crime and personal safety.