Uruguay admits textile exports could be infringing Brazil's antidumping rules
Friday, February 24th 2012 - 20:38 UTC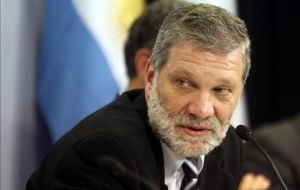 Uruguay's Minister of Industry and Energy Roberto Kreimerman admitted that Brazil suspended the access of textiles from Uruguay alleging that they were essentially Chinese cloth rolls with minimum input but stamped as Uruguayan manufactured and dispatched to Brazil.
Kreimerman who travelled to Brazil to discuss trade issues said "we have to be far more careful", acknowledging that other items such as bed covers and blankets sold to Brazil could contain a greater percentage of Chinese components than tolerated by anti-dumping rulings effectively imposed by the government of President Dilma Rousseff.
However Kreimerman underlined that far more important than the very good trade relations between the two countries is "the systematic elusion by a specific sector from the Uruguayan industry of rules and norms", which he described as a "delicate example of dumping". Nevertheless he will wait for the results on an ongoing investigation before making any further comments.
"Brazil wants a transparent trade with Uruguay and wishes to clarify all those cases where there are difficulties", underlined Kreimerman.
But the reaction from the president of the Uruguayan Chamber of Industry, Washington Burghi was not so diplomatic and challenged the origin certificate requirements scheme imposed both by Brazil and Argentina to have access to Mercosur preferential tariffs.
"I have to disagree with such ministerial statements since the certificates of origin are extended by the Chamber of Industry and we keep to the rules and norms. I can't say the same with how they interpret certificates of origin in Brazil and Argentina and if their real intentions are not geared to impede trade", said Burghi.
However Uruguayan government sources said that those 'manufacturers' who simply import stuff from China and re-label it as exports to Brazil would be better as members of the Chamber of Commerce and not of Industry.