New report highly critical of Argentina's train concessions expected this week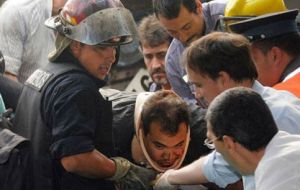 Argentina's Auditor-General (AGN) Leandro Despouy will present next Wednesday a new report on the TBA train concession with strong criticisms referred to the maintenance of trains and controls system, following the tragic accident last week that left 51 dead and over 700 injured.
"AGN had already warned about the reiterated non-fulfilment by Trenes de Buenos Aires of contract terms, since 2008, and the Wednesday presentation has been scheduled before the tragic accident", said Leandro Despouy.
"In the reports we have elaborated we warn of a reiterated non-fulfilment conduct from the company, which unfortunately means that in a way the accident could have been avoidable if the measures suggested had been adopted on time", added the top auditor.
"Already in 2008 the company was offering a service in deplorable conditions regarding the trains' breaks system" and "no security measures were adopted to avoid such incidents".
Despouy added that the fines imposed by the Transport Regulation National Commission "were not sufficiently efficient as to correct the conduct of the company which in that case was manifestly evident of non-fulfilment of minimum maintenance".
The AGN assessment on Argentina's rail system and service also included thorough warning remarks on TBA for "not having exhibited all maintenance plans requested by the AGN."
"What happened is not new. By 2008 the audit we ran revealed that the company levels of failure to comply with orders and procedures were high. Actually the Executive branch could have easily terminated the concession contract."
"We have all necessary proofs to call the contract termination, but that's something that the government [Executive power] must decide" concluded Argentina's top auditor.
Meanwhile the Rail Workers' Union head Omar Maturano confirmed that engine driver Marco Antonio Córdoba testified before judge Claudio Bonadio that the accident that killed 51 people was due to a brake failure.
"Out union fellow said that the brakes failed," Maturano indicated during an interview with a local radio show.
Meanwhile, TBA rejected the version of Córdoba through an official communiqué saying "The train completed the journey without having received any communication reporting anomalies or technical issues".
Furthermore, the communiqué remarks that "The reading of the deceleration and braking systems activated during the previous train station stops were normal".
However, Maturano said that when Córdoba "triggered the emergency brake, the system only received a compression that equals one kilogram instead of two and a half kilos which is the standard braking compression.
Under the concession system TB receives huge monthly support for the upkeep of the overall train system.