Forty million Argentines need to know "what happened and who was responsible"
Tuesday, February 28th 2012 - 05:12 UTC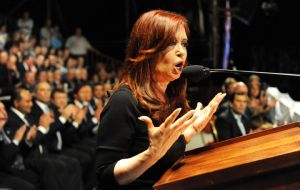 Argentine President Cristina Fernández reappeared in public on Monday and for the first time talked about the Buenos Aires train station accident in which 51 people were killed and 703 others were injured. She assured that she would make "any decisions necessary" once the matter is resolved in court.
The President gave her speech from Rosario, in the Santa Fe province, and in front of the Flag Memorial to commemorate the 200th anniversary of the first hoisting of the Argentine flag.
"I would like to ask everyone involved in the investigation for something. It shouldn't take you any longer than fifteen days to determine who was responsible for this. 40 million Argentines and victims of the crash need to know what happened and who was responsible," she said.
At the same time she clarified she was not asking judicial authorities to work within a timeframe in order to determine who was at fault in the case.
"In this case, we should have justice once and for all," she said.
"I would like to tell (the victims) and the 40 million of Argentines, those who like me and those who don't, that I'm going to make whichever decision is necessary once the investigators reach a conclusion," she emphasized.
The President mentioned the Once tragedy as she began discussing her administration's unfinished businesses. "Of course there are still things to be done. We need to have a railway system in Argentina once again," she admitted.
She also addressed the recent widespread criticism towards her long silence after the accident, and assured that people shouldn't wait "speculation or shallow speeches during a moment of grief. I can't stand those who want to take advantage of pain and tragedy".