Santiago de Chile has the tallest building in South America
Tuesday, February 28th 2012 - 17:37 UTC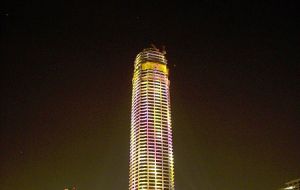 Santiago de Chile has the highest skyscraper in South America: the Gran Torre Costanera reached this condition when it surpassed the 300 metres height. The 107.125 square metres block has been designed by Chilean architects Alemparte, Barreda & Associates together with Pelli, Clarke, Pelli Architects, responsible for the Petrona Towers in Kuala Lampur.
The 63 floor tower will be destined to offices and will operate under a system of free spaces with surfaces ranging from 100 to 2.000 square metres. Office space will have the maximum international security and infrastructure standards including thermo-panels, anti UV and anti-impact glasses. The building includes 24 lifts of which 19 with double cabin.
The crowning as the tallest building in South America, which is expected to demand over a billion dollars, was confirmed with the elevation of a five-ton steel structure at the summit.
Salfa Engineering and Construction General Manager Fernando Zuñiga said that the "constructive challenge, systems employed as the height of the building were a formidable challenge. It's not a common undertaking in Chile: rather it has been 'a first time', and we are very proud".
"This is the largest investment we have in Chile, over a billion dollars, and it has been long time in the drawing board", said Horst Paulmann from the Cencosud holding responsible for the investment.
The cost has ballooned from the original 500 million dollars back in 2008, which also includes a super mall, probably the largest in South America. The whole complex, which includes four towers and the mall, will have a total area of 197.790 square metres.
"The first tower is to be opened next 12 April but the Torre Costanera, the tallest in South America remains on schedule for April 2013", said Paulmann.