Argentine teachers strike delays school year; four million children remain at home
Wednesday, February 29th 2012 - 07:41 UTC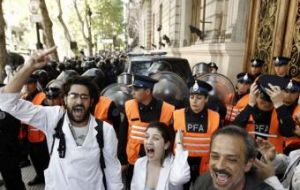 Almost 60% of Argentina's school children could not begin the new school year and had to remain at home because of a 48 hours teachers strike following the collapse of salary negotiations.
An estimated four out of seven million children between the ages of 3 and 12 and including special education which attend government schools stayed at home, according to the Ministry of Education estimates.
Teachers unions from the provinces of Buenos Aires, Cordoba, Mendoza, Santa Fe, Chaco, Entre Rios and Misiones decided none of its members should show up during the 48 hours stoppage which includes another 24 hours next week if no agreement is reached.
Unions are demanding a beginning salary of 3.000 pesos equivalent to 686 US dollars while the administration of President Cristina Fernandez so far has only been willing to offer 2.800 pesos or 640 dollars.
If the conflict persists until next week school teachers are expected to be joined in their industrial action by secondary school professors.
Education Minister Alberto Sileoni stated that wage talks were "out of the question" as teachers went on a planned 48-72 hour strike across eight provinces. He also reiterated that the strike should be the "last resort" in trying to resolve collective bargaining.
"We cannot talk wages when facing a 48, 72 hours teacher's strike", Sileoni warned.
"I believe they don't fully understand we are going through an international economic crisis," he said adding that, "in many countries they have reduced the staff, cut salaries and increased the work load while in Argentina we are arguing a wage hike."