ECB massive cheap funds influx hoping to ease credit and government borrowing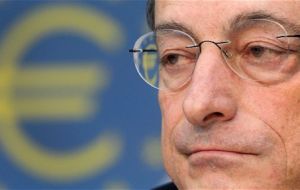 Banks grabbed 530 billion Euros at the European Central Bank's second offering of cheap three-year funds on Wednesday, fuelling hopes that more credit will flow to businesses and government borrowing costs will ease further.
A total of 800 banks borrowed money at the tender, with demand exceeding the 500 billion Euros expected by traders and well above the 489 billion allotted in the first such operation in late December.
The 3-year loans are the ECB latest attempt to fight the euro zone crisis.
ECB President Mario Draghi whose native Italy was at the epicentre of the crisis when the bank announced the measure late last year, said after the first of the operations, known as LTRO, that "a major, major credit crunch" had been averted.
Banks used much of the 489 billion Euros they borrowed first time around to cover maturing debt. Draghi has urged them to lend out the funds they tap at today's operation to households and businesses, helping strengthen economic growth.
ECB officials hope banks will also use the new money to buy higher-yielding bonds more aggressively, especially from Italy.
Anecdotal evidence suggests banks especially in Spain but also in Italy used the first LTRO to make most of this "Sarkozy trade", a term adopted by markets after the French president suggested governments look to banks flush with ECB cash to buy their bonds.
Spanish banks bought a net 23.1 billion Euros of government debt last month and Italians 20.6 billion Euros, both record increases.