Greece slashes minimum wage and pensions to help rescue the Euro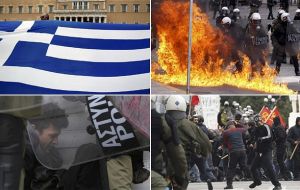 Greece approved bitter new austerity measures on Tuesday, slashing the minimum wage and chopping pensions as Athens began implementing measures demanded by international lenders in return for a 130 billion Euro rescue package.
With creditors pressing for swift action, the cabinet approved the cuts to the minimum wage as part of a package of measures signed off hours before parliament passed a separate set of spending and pension cuts on Tuesday night.
"Today's legislation and the one to come tomorrow are actions that implement the programme already voted to rescue the country," Finance Minister Evangelos Venizelos told lawmakers.
"We must steer the ship to the safe harbour of debt restructuring. It requires national unity and for us to send a message of credibility," he said.
In a move that will not require any further parliamentary approval, ministers imposed a 22% cut on the standard minimum monthly wage of 751 Euros. For those under the age of 25, the cut will be even more brutal, a 32% reduction.
In addition, it imposed wage freezes on certain categories until the unemployment rate, currently 21%, falls below 10%.
As the legislative process underpinning Greece's budget commitments grinds into gear, Prime Minister Lucas Papademos is to meet European Commission President Jose Manuel Barroso on Wednesday before a European summit on Thursday and Friday.
Despite growing impatience in much of Europe at Greece's persistent failure in the past two years to cut spending and reform its shattered economy, the Dutch parliament on Tuesday followed Germany in approving the bailout package.
But there has been growing concern that the repeated cuts will stifle any hope of recovery and make it impossible to cut a public debt burden of 160% of GDP.