Pink Floyd lead singer says the Malvinas Islands "belong to Argentina"
Wednesday, February 29th 2012 - 01:43 UTC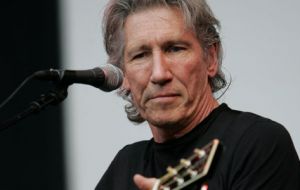 Former Pink Floyd lead singer Roger Waters, who has nine shows scheduled in Buenos Aires at the River Plate stadium this March, assured that the Malvinas Islands "belong to Argentina. He also stated that the 1982 war between Argentina and the UK "saved then British Prime Minister Margaret Thatcher's political career."
"The Malvinas belong to Argentina. In 1982, the Malvinas War saved Margaret Thatcher's political career but it killed many British and Argentine citizens," the English singer lamented.
Waters made these statements to the Chilean press and expressed where he stands on the bilateral conflict that has Argentina and the United Kingdom at odds almost thirty years after the armed conflict began.
His controversial statements shouldn't be considered as opportunism or a publicity stunt to promote his shows in Argentina, since he has already discussed the Malvinas issue in songs from his last album with Pink Floyd, "The Final Cut."
In fact, Waters has always shown his aversion for war in many of his works, including The Wall, the result of losing his father in World War II when he was only five years old.
The Final Cut is considered to be a condemnation of war, with his songs including a profound criticism of the Malvinas conflict, in which he warns that lives of Argentine and British soldiers were being used as a political instrument.
His most relevant song against the Malvinas War is "Get your filthy hands off my dessert," in which he says: "Brezhnev took Afghanistan; Begin took Beirut; Galtieri took the Union Jack And Maggie, over lunch one day, Took a cruiser with all hands. Apparently, to make him give it back".
When describing his upcoming shows in Buenos Aires, he made a strong case against wars and poverty around the world, with a severe criticism of capitalism.
"I realized that when I created this show 32 years ago it was about me, but now I see it was a lot bigger than that, it was for anyone who was against war" he underlined.