Tugs pulling 'Costa Allegra' to Seychelles; helicopter drops of bread and torches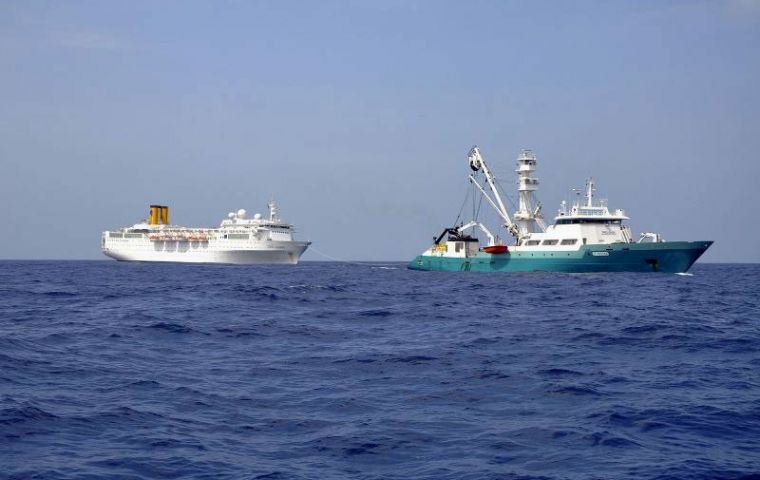 Two tugs finally reached on Tuesday the stranded "Costa Allegra" cruise and are pulling her to the Seychelles Islands. The vessel on Monday suffered a fire which left her powerless approximately 200 miles southwest of the Indian Ocean islands.
A release from Costa Cruises at midday Tuesday said the two tugs joined the French flagged fishing vessel which was already helping the stranded cruise now heading for the island of Mahé, from the Seychelles archipelago.
A second fishing vessel on Tuesday also joined the "pull-task force" helping Costa Allegra move at 6 knots which means she could arrive to the island of Mahlé early Thursday morning, ahead of the original schedule.
On Wednesday a helicopter is expected to reach the Costa Allegra with 400 torches and loaves of bread since the vessel with out power can't bake and food is becoming scarce, said the Costa cruises release.
Apparently a naval unit in the scene delivered a small generator which the crew is attempting to adapt to make life on board more comfortable for the passengers as well as trying to bring some of the equipments back to life.
The company reports that a light breeze is helping to create a "more tolerable environment for those on board" and on arrival at the Seychelles a team of 14 people is waiting to comfort Costa Allegra passengers and crew members.
Eight out of the group of fourteen will make arrangements for the 636 passengers (among which 15 Spaniards, 2 Brazilians and one Uruguayan) to be hosted in the islands' hotels and for an orderly and efficient departure to their countries or origin.
The fire which broke out in the 'Costa Allegra' with its eight decks and 399 cabins, occurred a month and a half after the 'Costa Concordia' grounded in the Italian island of Giglio causing the death of 25 people and seven disappeared.