Argentine government preparing legal framework to grab YPF from Spain's Repsol
Thursday, March 1st 2012 - 04:34 UTC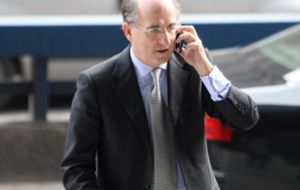 The government of President Cristina Fernandez is preparing the legal framework to take control of Spain's Repsol-YPF subsidiary in Argentina which it has accused of not investing sufficiently and has triggered a round of discussions with the Spanish corporation's top official, reports the Buenos Aires media.
Precisely Repsol-YPF chairman Antonio Brufau arrived in Buenos Aires on Wednesday amidst the present tensions with the Argentine government and following the latest chapter: the Argentine stock market committee declared that the latest Repsol-YPF shareholders meeting in Buenos Aires was 'irregular' since government representatives weren't allowed to participate.
It was Repsol-YPF's CFO Miguel Martínez who confirmed the visit of Brufau to Argentina after acknowledging the results for the fourth quarter.
This is Brufau's third visit to Argentina within the past weeks as the pressure mounted by the Argentine government has gone up, while YPF shares have plummeted.
Brufau had already met with Economy Minister Javier Lorenzino and Planning Minister Juilio De Vido by mid February, and attended YPF board members meeting last week.
Once again, YPF shares collapsed as insistent rumours of the Argentine government taking control of the oil giant increase. After edging down more than 7%, on Wednesday the company's shares plunged 10.2%.
According to Ambito Financiero newspaper, the landing of the national government on the local branch of Spanish Repsol is imminent. Likewise, officials are considering a legal framework that will allow the State to participate in the management of the company by setting an intervention.
On the other hand, the tabloid mentioned the government is already working on several preliminary versions for a draft bill that would allow the ANSES (Social Security), through the Guarantee Fund for Sustainability, to directly buy shares of YPF-Repsol until it grabs absolute control of the company
The stock market national committee (CNV) deemed YPF resolutions adopted on the February 23rd board meeting as "irregular and ineffective".
During that meeting, YPF banned Coordination Under-secretary Roberto Baratta, the State's representative before YPF, who had attended with Economic Polices Secretary Axel Kiciloff and Energy Secretary Daniel Cameron. Following the ban, the government official requested it was put in the minutes, and recorded.
Resolution 15757 was announced on Wednesday afternoon assures that the irregularity and ineffectiveness of the board meeting was applied to administrative effects on grounds of file 443/2012, ruled by the CNV Manager Office and General Manager offices.
The file became official as the States representative in YPF assured he was banned from attending a board of directors meeting last Thursday.