The US job market remains "far from normal" admits Bernanke before Congress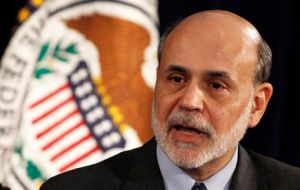 An uneven US economic recovery will have to pick up in order to quickly bring down an unacceptably high jobless rate, Federal Reserve Chairman Ben Bernanke said on Wednesday.
"The job market is far from normal," he said in comments prepared for delivery to the House of Representatives Financial Services committee.
Bernanke's remarks suggested another round of Fed bond buying to stimulate growth is not off the table as policymakers assess whether job market gains will persist.
The drop in the unemployment rate, which fell to 8.3% in January, is more rapid than would be expected given the economy's sluggish rate of growth, Bernanke said.
"Continued improvement in the job market is likely to require stronger growth in final demand and production," he said.
Sustaining a highly accommodative monetary policy stance is consistent with the Fed's goals of achieving full employment with low and steady inflation, he said. The Fed believes rates near zero will be appropriate through at least late 2014, he added.
A recent rise in oil prices due to geopolitical tensions may raise inflation for a time and curb consumption, Bernanke said.
"Gasoline prices have moved up ... a development that is likely to push up inflation temporarily while reducing consumers' purchasing power," he said.
At its last policy-setting meeting in late January, the Fed said it isn't likely to raise benchmark interest rates - which have hovered near zero since December 2008 - until at least late 2014.
Bernanke, in the press conference following the meeting, left open the possibility the central bank could launch another round of bond buying if the weak recovery falters or if inflation begins to fall below the Fed's 2% target.
Strong jobs and factory data since then have eased worries US economic growth could slow sharply, but tensions between Western nations and Iran have escalated, threatening a repeat of 2011 when a spike in energy prices hit the recovery hard.
Nervousness about oil supply has pushed crude oil prices to 10-month highs. In the United States gasoline prices are rising toward 4 dollars a gallon, posing a risk to the recovery.