UK expects Argentina to honour accords and refers any flights' discussions to the Falklands' government
Thursday, March 1st 2012 - 22:48 UTC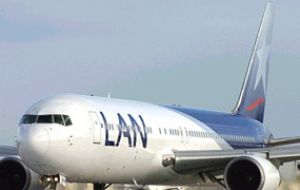 The UK expects Argentina to honour its commitments under the 1999 agreement allowing for flights to the Falkland Islands from Chile and insisted that any discussions on flights were a matter for the Falkland Islands government.
The statement from a spokesperson from the Foreign Office follows Thursday's announcement by President Cristina Fernandez that she would be asking for a renegotiation of the 1999 accord and establishing direct flights to the Falklands from Buenos Aires, three times a week, by the country's flag carrier, Aerolineas Argentinas.
"The weekly flight to and from Chile is a well-established route, and is valued greatly by the Falkland Islanders, including the Chilean community and others," a UK Foreign Office spokeswoman was quoted by the BBC.
"It would be deeply disappointing and utterly unjustifiable if Argentina put pressure on this flight to be suspended".
The spokesperson added that if Argentina wanted to promote air links between the continent and the Falklands, it should reconsider a ban on charter flights through its airspace.
"President Fernandez's current policy of seeking to isolate and dictate to the Falkland Islanders - from the harassment of fishing vessels to the closure of shipping ports - is indefensible and will not succeed," she underlined.
Cristina Fernandez, who nationalized Aerolineas Argentinas in 2008, has previously threatened to consider withdrawing permission for the Lan flight to pass through Argentine airspace because of Britain's refusal to negotiate the sovereignty of the Falklands.
An announcement to that effect was anticipated by the Argentine president last September when she addressed the UN General Assembly.