Brazil 2011/12 soy and corn crops estimates slightly lower to 69.5m and 60.4m tons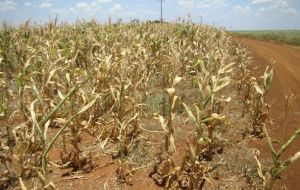 Brazil's 2011/12 soybean and corn crops are forecasted to be slightly lower than the original February estimates according to the latest release from industry and market analyst.
The soybean crop that is now harvesting is seen at 69.5 million tons, down from February's estimate of 71.9 million tons, the grain crushing industry Abiove said on Monday.
Abiove also said soybean exports would fall to 32 million tons from 33 million tons in its previous estimate.
The corn harvest is expected to reach 60.4 million tons, which is slightly down from the 60.58 million tons forecast last month according to local analyst Celeres.
Analyst estimates for corn had been slashed recently after a harsh dry spell destroyed some of the corn in top producer Parana state. Many forecasts then swung higher on expectations the winter crop, one of two annual harvests, would be bigger than previously thought.
Celeres estimates that Brazil produced 53.74 million tons from both summer and winter crops last season. The summer crop runs roughly from September to April with the planting of the winter crop coming straight after.
The small adjustment to Celeres' number appeared to be more a case of fine-tuning than a significant change in its outlook for the crop. Though drought conditions have eased, data from forecaster Somar showed the main grains states were much drier than the historic average in February.
"The effects of the drought that took place at the end of last year in the southern region of the country are starting to become clear, with productivity turning out lower than initially expected for the current crop" Celeres said in a statement.
The analyst said 25% of the corn summer crop has been harvested, up from the 18.3% collected this time last year in main soy regions. The larger summer crop is seen at 34.76 million tons, up 5% from 33 million tons last year.
The winter crop that is planted as the summer corn and soy crop is harvested is seen at 25.6 million tons, up nearly 24% from the 20.7 million tons harvested last year from the second crop.
Celeres said that crop was now 60% planted, well up from the 40% sown by this time last year.
Celeres revised its outlook for soy production to 69.8 million tons from 72 million tons in early February