Chinese athletes banned from eating beef: fears of the clenbuterol substance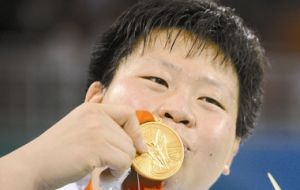 Chinese athletes preparing for the London Olympics have been banned from eating meat over fears they may consume clenbuterol -the prohibited performance-enhancing substance led to Chinese Olympic judo champion Tong Wen's two-year banm, reports China Daily.
The meat ban forbidding national team athletes from eating meat products when dining out was issued by China's General Administration of Sport in an urgent notice recently due to fears that banned clenbuterol substances in meat would cause athletes to fail the drug tests in the run-up to the 2012 London Games.
Huang Wenyi, a gold medal winner at the 2010 Guangzhou Asian Games and currently training for the 2012 London Olympics, revealed on her Sina Weibo that clenbuterol, or "lean meat power," which is administered to livestock to bulk them up and produce leaner meat, was even found in pork products raised and prepared exclusively for athletes.
"The Administration issued an urgent order banning athletes from eating pork, beef or lamb outside. When dining out, we are only allowed to eat fish and chicken," Huang said. "Is there any food safe to eat in China?" she added. But Huang later deleted the post.
The move to guarantee Chinese Olympians are free from performance-enhancing drugs has been strictly carried out as another Olympian revealed that anyone violating the ban would be expelled from the national team.
"Now the only place that we could eat safely turns out to be our cafeteria." Lu Yong, Beijing Olympics men's 85kg weightlifting champion twitted on his Sina Weibo. "It's a disaster for athletes as the prohibited substance in over 52% of the meat products in Beijing has exceeded the drug test standard".
The China Daily piece then mentions several top athletes brought down by eating meat containing clenbuterol, beginning with Spain's cyclist Alberto Contador.
Earlier this week, three-time Tour de France champion Alberto Contador was banned from competing for two years from professional cycling and stripped of his 2010 title after testing positive for clenbuterol.
The Court of Arbitration for Sport rejected his claim that the positive result was caused by eating contaminated meat during a 2010 Tour rest day rather than taking clenbuterol as a performance-enhancing drug.
China's Olympic judo champion Tong Wen was banned for two years by the International Judo Federation on May 10, 2010 and was required to give back her gold medal from the World Championships of 2009.
Tong blamed pork chops for the positive clenbuterol test and subsequently contested the ban and took her case to the Court of Arbitration for Sport who ruled that a doping violation could not be proved and found in her favour ordering that she be reinstated immediately with all rights. She returned to international competition in May 2011 winning gold at the Moscow Grand Slam.
US swimmer Jessica Hardy tested positive at the US trials in July 2008. She served a one-year suspension, having claimed she unknowingly took the drug in a contaminated food supplement.