Historic year for US beef exports in volume and value and first surplus since 2003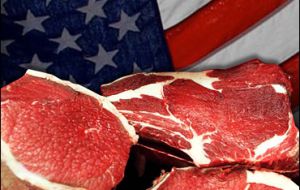 Last year was historic for United States beef exports in both volume and value terms, according to a report from the South Dakota University and released by Drovers Cattle Network.
At 2.788 billion pounds, US beef and veal exports were record large. Additionally, this volume accounted for 10.6% of US commercial beef production, up from 8.7% in 2010, which was also a record. Notably, 2011 marked the first year that the US beef and veal export volume exceeded 2003 pre-BSE levels (mad cow disease).
On a value basis, the US exported a record 4.7 billion dollars of beef and veal in 2011 compared to 3.5 billion in 2010. Additionally, the US exported 376 million dollars in live cattle, 1.5 billion in hides, 765 million in tallow and greases, and 686 million in variety meats.
Thus, all US cattle and beef exports totalled a record 8.1 billion for the year, which was up almost 2 billion from 2010. Export values increased in each category last year due to both volumes and prices being significantly higher than the previous year.
Last year, the largest beef and veal export markets for the US were, in order by volume, Canada (18%), Mexico (17.5%), Japan (16.4%), and South Korea (13.6%). Together, these countries accounted for about 65% of US beef and veal exports in 2011. Two decades ago, these same countries were the destination for 94% of US exports. This dramatic change is both a function of BSE-related trade restrictions in the Asian markets and growing export demand in other foreign countries. Still, the value of these four countries' exports totalled almost 3.2 billion dollars.
In 2011, the US imported just over 2.0 billion pounds of beef and veal valued at 2.9 billion. While the value of those imports was slightly higher than in 2010, the volume of imports was the smallest in at least 25 years. Ninety-three percent of US beef and veal imports on a value basis came from Argentina, Australia, Brazil, Canada, Mexico, New Zealand, and Uruguay. Over time, the value of imports has increased from Canada and Mexico and declined from Australia and New Zealand.
Historically, the US had been a net importer (imports>exports) of beef on a volume basis and a net exporter (exports>imports) on a value basis, except for BSE-impacted years in the mid-2000s. This trend was due to the US tending to export higher valued products (e.g., loins) and import lower value products like grinding beef (e.g., hamburger). However, for the last two years, the US has exported a larger quantity of beef than it has imported, due in part to a relatively cheap US dollar. While net exports on a volume basis were small in 2010, they grew to 732 million pounds in 2011. On a value basis, net exports were a record 3.4 billion in 2011, surpassing 2010 net exports by 1.6 billion dollars.
Official monthly trade data are made available with almost a two month lag. Therefore, these data are not available yet for the first two months of 2012. However, weekly export data for fresh and frozen beef are available through the end of the last full week of February from US Customs. These data reveal that beef exports have continued to grow in 2012. For the first eight weeks of the year, beef exports have increased 5% when compared to the same time period of 2011. That increase in volume is remarkable given the continuously higher prices facing buyers. And, it occurred despite a decrease in volume shipped to South Korea, Mexico, and Japan, usually the largest markets for U.S. beef. Instead, Egypt and Russia increased purchases significantly so far this year. These countries have found US beef priced competitively with product it would usually buy from South America, which has a tight supply.
Overall 2011 was a phenomenal year for the US international beef trade. Tight global cattle supplies, international political and economic conditions, and currency exchange rates all served to strengthen net exports last year on both a volume and value basis.
Clearly, the strength of this demand market underpinned fed cattle prices throughout the year and continues to today. As the percentage of US commercial beef production that is exported continues to increase, US cattle producers will grow increasing dependent on these foreign markets to support fed cattle prices.
This also means that US cattle producers' exposure to foreign exchange markets, world economic conditions, and other uncontrollable events around the globe will increase. While traditional risk management tools can't protect against all of these risks, they can protect against large price moves that can occur with the loss of export markets. So, despite the positive trends in international beef trade, it also provides another motivation for hedging production.