Argentine dock workers conflict extends; 150 ships idle waiting to load
Tuesday, March 6th 2012 - 18:56 UTC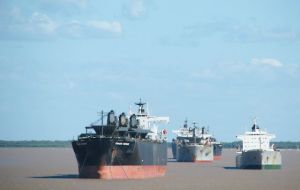 Scores of grains ships sat idle outside Argentina's ports and off the Uruguayan coast on Tuesday as the country dock workers' union and port managers' chamber sparred over a strike that threatened to disrupt exports.
The union called for a strike last Thursday, which propped up world soy prices until the CAPYM (maritime and port activities chamber) announced on Friday that the work stoppage had ended, only to begin again on Monday.
But union chief Omar Suarez told reporters that the strike had never been called off at all, and that by today (Tuesday) about 150 ships were forced to drop anchor and wait for the work stoppage to end before they could be moored.
This, he said, paralyzed operations in Argentina's main grains shipping hub of Rosario. "Not one ship more will enter or leave," Suarez said. "There could be something like 150 ships halted."
The union chief added, "This is the continuation of the strike that started last week. The strike did not end on Friday. It continues in all ports."
The union, SOMU has demanded that work shifts be better staffed.
Argentina is a top world supplier of soy and corn. A CAPYM spokesman declined to say how many ships were being held up by the strike, but he insisted that the dock workers ended their strike late on Friday.
"The dock workers, who are represented by SOMU, worked the weekend until 5 pm on Monday," the spokesman said.
Argentina is the world's biggest exporter of soy-meal, which is used as animal feed, and soy-oil, used for cooking and in the booming bio-fuels sector. The country is also the No. 3 supplier of soybeans and the No. 2 corn exporter after the United States