Brazil's reviewing its foreign policy but South America remains the "anchor"
Tuesday, March 6th 2012 - 17:27 UTC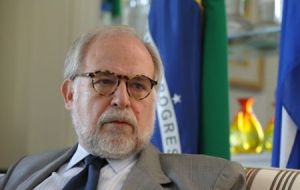 Brazil will keep its foreign policy 'anchor' in South America but will review the international because of the latest global changes such as the European Union crisis and the Arab spring.
"There have been great deep changes in the last year and that is why we are going to redefine our diversification project in the world", said Marco Aurelio Garcia, President Dilma Rousseff special advisor on international affairs.
According to Rio's O'Globo President Rousseff instructed several ministers to articulate new foreign policy changes in accordance with the growing weight of Brazil in the world economy.
Foreign Affairs minister Antonio Patriota also confirmed South America as the "regional anchor", particularly given the good prospects for the region.
"The prospects for the region are the most promising in the last decades. International relations are not an exact science, we attempt to open coherent stance paths which ensure Brazil's global credibility and growing influence", said Patriota.
But "neighbours also demand our attention", said Garcia in the interview with O'Globo.
Patriota and Garcia pointed out that the Syrian uprising has repeated a Cold War scenario with China and Russia on the one side and the United States on the other.
"It looks like the return of the Cold War", said García while Patriota added that Brazil remains firm in its position and "takes into account the opinions of all countries in the region".
Garcia, who was also an advisor to former president Lula da Silva, said that the former union leader was more "intuitive" and opened the path for the South America-Arab countries summit, closer relations with Africa and the mediation attempt (with Turkey) in the case of Iran.
"Now it's time to harvest and look more carefully at the changes the world has undergone in these last 18 months".
Brazil given its very strong Arab community, particularly Syrian (Sao Paulo is considered the second Syrian city in the world after Damascus), has been asked to play a greater role in that country's situation.
According to diplomatic sources Brazilians had argued that after the Russian presidential election, (last Sunday) there was not much that could be done, since Putin was playing the strong nationalist card and Moscow, a staunch ally of the Syrian regime, adopted an intransigent position.
"With Putin confirmed in the helm, there could be news", said the diplomatic sources.