Paraguay exports to Argentina plunge 70%; 'mirror' countermeasures considered
Tuesday, March 6th 2012 - 05:03 UTC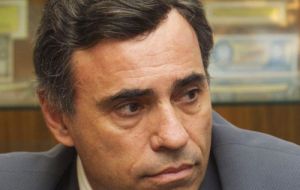 Mercosur junior member Paraguay that is suffering the Argentine restrictions on imports and has seen its February exports plummet 70% is planning 'mirror' countermeasures but emphasizing on those products with greater impact for Argentina and lesser for Paraguay.
Eduardo Felippo, Vice-president of Paraguay's Industrial Union said that the organization was working with the Ministry of Industry and Commerce Francisco Rivas on the countermeasures.
"We're in the same frequency and advancing on measures to restrict imports which have the greatest impact for Argentina and the lesser effect fro the Paraguayan market".
Paraguay last week presented a formal protest to Argentina regarding imports restrictions and said the country would not participate in any of Mercosur discussion rounds until the situation persists.
"We must not forget that Argentina sells a lot of stuff to Paraguay, wines, food basics, all of which can be imported from Brazil or produced locally", said Felippo.
However the idea is not to close the Paraguayan market to Argentina, on the contrary "we want the Argentine companies to lobby for Paraguay. Our exports are but 1% of what Argentina sells to us".
Argentina's trade surplus with Paraguay in 2011 reached 972 million dollars.
Among the sectors which have proved most vulnerable to the latest Argentine measures are the cardboard and wood industries as well as foot wear and garments, most of which are manufactured in small shops or at homes, "with a tremendous impact on family finances", pointed out Felippo.
"We are also facing potentially a very serious employment and home-jobs problem" underlined the Vice-president of the Paraguayan Industrial Union.
When told that in spite of all the efforts and possible countermeasures, the Argentine government looks down on Paraguay, Felippo said that at home he has a Yorkshire which is not afraid of bigger dogs.
"We are going to bite the mastiff ankles and drive him mad until he pays attention. No matter how big we can bite and bite and make a nuisance of ourselves", said Felippo.