US beef exports in first seven weeks of the year totalled 99.800 tons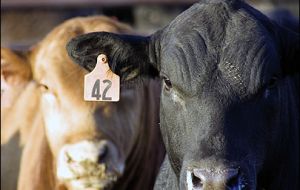 Trade data for the first two months of the year show US beef export demand remains strong with total shipments above last year and despite sharply higher prices in the US market, according to Drovers' Cattle Network.
A weaker US dollar has blunted some of the impact of higher US beef prices but not entirely. Overall US exports of beef muscle cuts (does not include cooked beef, or offal) in the first full seven weeks of the year (Jan 2 - Feb 16) totalled 99.800 tons, whish is 6.244 tons (7%) higher than the comparable period a year ago. The increase in exports came despite lower shipments to S. Korea, Mexico and Japan and is evidence that diversification in beef exports should be able to sustain export growth in 2012 and beyond.
Russia and Egypt have become growing markets for US beef. Russia has become more active in the US market in the last two years as their traditional suppliers in Argentina and Brazil have been unable (Brazil) or unwilling (Argentina) to fill Russian orders. Also supportive of US shipments to Russia has been the fact that the US dollar has declined about 7% vs. the Rouble since the beginning of the year (it still is stronger vs. the comparable period a year ago). Russian buyers at this time are finding US prices more competitive than offers from other supplying countries such as Australia and Uruguay and this is showing up in the trade data.
As for Egypt, it tends to buy much of its beef from Brazil but in recent months US beef prices have become more competitive. Brazilian beef supplies have declined recently as producers there try to expand and supplies are not expected to recover until 2013/14. Also domestic demand in that country is far outpacing the ability to expand production, pushing overall prices higher. Egyptian beef purchases were also disrupted last year by political events and buyers there are trying to fill up the pipeline, this time with US beef.
While smaller markets are important, larger traditional markets also need to carry their weight. Exports to S. Korea have been lower than year ago levels. Weekly shipments to this market peaked at about 5.300 tons a week in early March 2011 but returned to around 2.500 tons a week by April. Also skewing the data may be the fact that S. Korean buyers were slow in placing orders ahead of the expected implementation of the US-S. Korea FTA, which will reduce the duty rate on year 1 from 40% to 37.5%. The duty will then continue to decline by 2.7% for the next 15 years.
The US competes directly with Australia in beef shipments to the S. Korean market. The lower tariff coupled with a weaker US dollar will likely make US beef much more competitive vs. Australian product and US weekly shipments to Korea to be consistently over 3.000 tons/week from April forward.
A Japanese commission is currently reviewing the rules limiting US beef exports to Japan and an answer can be expected sometime in early April and a possible July implementation, concludes the Drover's report.