Mexico's tycoon Slim world's richest man for a third consecutive year
Thursday, March 8th 2012 - 06:10 UTC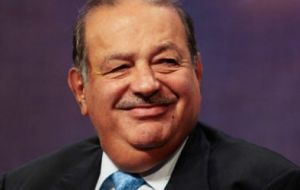 Mexican tycoon Carlos Slim, who on Wednesday topped the Forbes rich list for a third consecutive year with a fortune of 69 billion dollars, invests widely as he seeks to expand his massive telecoms empire.
Though down from the 74 billion estimated by Forbes last year, hit by the economic downturn and devaluation of the peso, Slim's fortune outpaced runner-up Microsoft founder Bill Gates by an estimated 7 billion this year.
The 72-year-old Mexican of Lebanese descent began his business career aged 10, selling sweets and drinks to his family, and later made his name with aggressive investments during crises.
Slim established his fortune building up the telephone giant Telmex after acquiring it from the government in 1990, expanding into cellular service with his now-dominant Telcel carrier.
Today his Carso Group conglomerate is omnipresent in Mexico, including department stores, construction companies, mining and the Inbursa financial group.
And the real source of his current wealth, the America Movil telecoms group, counts 225 million mobile customers reaching through 18 countries from the United States all the way to the southern tip of South America.
Slim told Forbes he still drives himself around, with security guards, in a four-year-old Mercedes. While critical of charity, Slim funds education and health projects through his two foundations and says his biggest goal is a fight against poverty.
"To take poor people out of poverty and put them in the modern economy is very good for the economy, for the country, for society and for business," Slim told Forbes. "It is the best investment."
Slim's private art collection is the largest in Latin America, including some 300 works by French sculptor Auguste Rodin. Many of the works are now on display in the curving metal Soumaya Museum, named after Slim's late wife, which opened last year in Mexico City.
A baseball fanatic, Slim, who has six children, has handed over the daily operations of his companies to family members and business partners.