Malvinas 'Ushuaia declaration' will be approved this week by the Argentine congress
Monday, March 12th 2012 - 07:51 UTC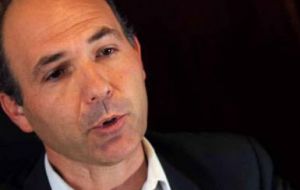 The chairman of the Argentine Lower House Foreign Affairs Committee, Guillermo Carmona said that the recent 'Ushuaia Declaration' claiming sovereignty over the Falklands/Malvinas Islands will be posted to all Parliaments world-wide to ratify and further advance Argentina's position in the dispute.

Carmona who was recently nominated chairman of the committee anticipated that the agenda for this year besides the Malvinas question includes as a priority Latin American integration.

Last February 25, the foreign affairs committees from the two houses and with members from all parties represented in the Argentine congress agreed at a special session in Ushuaia, Tierra del Fuego on a strong statement in support of Malvinas sovereignty and the government's policies.

Carmona added that according to what was agreed with the Senate International Relations committee, the 'Ushuaia Declaration' will be passed by Congress next Wednesday, which is this year's first formal session.

"It has been planned that the declaration is posted to all parliaments in the whole world, and we are also planning concrete actions in Latam countries where it will be ratified what is for us, a matter of State".

Carmona added that the declaration will be also presented at different international forums, particularly at the coming Inter-Parliamentarian scheduled for April in Uganda.

Furthermore the Lower House committee has begun a round of contacts with Latam ambassadors to thank them for their Malvinas support, the first was Brazil's, Enio Cordeiro.

The lawmakers are also planning trips to Uruguay and Chile to meet with their peers.

Carmona described as an ultra 'Kirchnerite, said that with the naming of the Argentine ambassador in London, Alicia Castro, it is anticipated that contacts with Westminster will be re-established, particularly the House of Commons Foreign Affairs committee.

"Argentina for the first time in many years has a foreign policy which is a reflection of what in going on in domestic affairs, such is the case of the inclusive economic policy implemented by President Cristina Fernandez, which has been promoted in different international forums", said Carmona.