First deadline for Repsol-YPF: invest or loose concessions in Chubut
Tuesday, March 13th 2012 - 07:24 UTC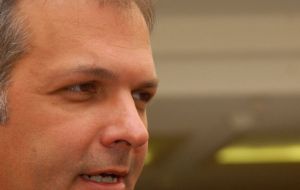 Argentine Patagonia Chubut province could move to revoke oil and gas concessions held by Spain's Repsol controlled oil and gas giant YPF SA as soon as Wednesday, a provincial official said Monday.
Chubut Governor Martin Buzzi plans to host an event Wednesday evening in which he will announce the revocation of concessions held by YPF, the official said.
A week ago, Chubut gave YPF seven days to present a plan to boost oil output or lose two concessions in the province. The deadline ends Tuesday at midnight.
"YPF still has a legal opportunity to respond to the request and present a plan," the official said. But if YPF doesn't present a convincing plan, Buzzi will move to revoke the company's concessions.
The province has already sent out invitations to Wednesday's event, which is formally titled the "Oil Area Revocation" event according to the invitations sent out.
The event is set to be held on the border of Santa Cruz Province, which has also given YPF a similar seven-day ultimatum over its concessions there, and will be attended by Santa Cruz Governor Daniel Peralta.
In recent weeks, four provinces, including Mendoza and Neuquen, have told YPF to raise production quickly or face the revocation of its concessions.
The provinces are members of a conference of governors from Argentina's top oil-producing provinces that have harshly criticized the oil and gas industry for not investing enough. The group recently gave the companies, including YPF, two years to boost production by 15% or lose their concessions.
But at least four governors seem eager to force YPF hand long before the two-year deadline expires in 2014.
The ultimatums are the latest twist in a push by President Cristina Fernandez to force YPF and other energy companies to raise output at a time when the government is becoming increasingly worried about the cost of fuel imports.
The Kirchner administration has put increasing pressure on oil and gas companies to invest more in exploration, production and refining as surging fuel and natural-gas imports erode Argentina's trade surplus.
Last week, the government asked YPF to reinvest its earnings from the last two years in its operations instead of paying dividends to shareholders.