Brazilian vessel looses half 5.000 cattle on board and has no port to dock
Wednesday, March 14th 2012 - 23:52 UTC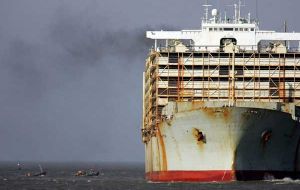 An animal welfare disaster resulting in the death of more than half the 5.000 cattle on board a Brazilian-owned live export ship bound for Egypt over the past fortnight has prompted renewed calls to ban the industry.
Animals Australia has described the incident as one of the worst shipboard disasters the live export industry has seen in many years. The animal rights group has also pleaded with the Australian industry and government sources to provide emergency assistance for the surviving cattle, utilising its vast overseas resources.
On Monday, AA Campaign Director Lyn White expressed concerns the ship was still anchored at sea after being refused port access in a number of countries over the weekend including Egypt, where the cattle were originally meant to be offloaded.
AA said authorities were considering moving about 2000 remaining cattle onto smaller boats near Eritrea in the Horn of Africa. But they said the boat to boat transfer was not the best option in terms of animal welfare and urged unloading straight onto dry land.
AA said by refusing access for the remaining animals on board the shipment, Egypt had breached its World Organisation for Animal Health (OIE) obligations and had no confidence they would react any differently if a similar incident occurred in future, for a shipment of Australian animals.
An AA spokesperson said under the OIE obligations, of which Australia is a member, countries were obligated to provide assistance for any animals in danger.
"This is an international agreement and it makes us question why they would honour our memorandum of understanding (which is non-binding so not legal) when they are prepared to breach an international agreement between nations," Ms White said.
AA said it was working with international colleague groups to find refuge for the surviving 2000 cattle after Egyptian authorities refused to allow the animals to be unloaded.
Ms White said it was understood that ventilation problems on the recently converted livestock vessel, the MV Gracia Del Mar, had caused the deaths of more than half of the animals on board since the ship left South America for Egypt a few weeks ago and the ship has been anchored in the Red Sea for over a week.
"This is nothing short of an animal welfare disaster," she said. "If remaining cattle are not offloaded more of these animals will suffer appalling deaths at sea.
"We are appealing to authorities in Egypt to offload the remaining cattle at Al Sohkna, as was originally intended."
Ms White said the disaster was another example of the inherent risks of transporting animals by sea. She said nine years ago 5.000 Australian sheep perished on board the MV Cormo Express after country after country refused to allow it to berth.