Ports in Argentina resume grain loading as dock-workers return to work
Wednesday, March 14th 2012 - 01:57 UTC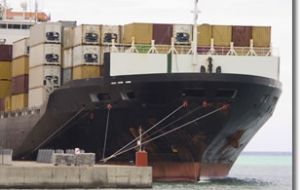 Argentine dock-workers on Tuesday suspended a 12-day-old strike that had delayed more than 500 million dollars in grains shipments while forcing cargo vessels to drop anchor along the country's waterways.
Argentina, which usually loads 200.000 tons of farm products per day, had been shaken by the work stoppage called at the start of the month by the SOMU labour union to demand shorter and better-staffed shifts.
The suspension of the strike will allow the workers and port managers to negotiate a deal ahead of a March 26 meeting between the two sides at the Labour Ministry in Buenos Aires.
"We have lifted the strike until next week," said union official Ruben Arredondo, who works in Argentina's main grains hub, Rosario, where ships were once again allowed to be loaded at the huge grains terminals that dot the Paraná River.
Argentina is a major world supplier of soy and corn, and the farm sector is a top source of government revenue. So the strike had been watched by grains traders, economists and sovereign bondholders alike.
Arredondo said the union suspended the strike as an act of good faith, but export industry sources said the government had ordered SOMU to suspend the strike.
The union demands an eight-hour workday and that a fourth crew member be assigned to each motor boat that goes out to guide grains vessels to their docks. Currently the crews work 12-hour shifts with three members on board each of the motor boats.

Diego Lomban, lawyer and negotiator for Calaprac, the chamber that represents docking service companies, says current work conditions fall within Argentine labour laws. He said the motor boats are too small to safely board a fourth crew member.
"They want more crew members and they want to work office hours, which is not realistic," Lomban said earlier on Tuesday.
"Maritime work is dynamic," he added. "When the cargo ship arrives at port, you have to work it. You cannot keep the ship waiting while you change shifts."
Farmers and exporters hope port operations will be smooth by the time soy and corn harvesting starts in earnest later this month. Crop prospects had already been dented by a drought that parched fields in December and early January.
Argentina now expects a 2011/12 soy crop of up to 45 million tons and a corn harvest of up to 22 million tons, both lighter than the previous season's take.
Soybeans, plus the vegetable oil and livestock feed made from them, account for about half of Argentina's export tax collection. Such taxes make up about 10% of total government revenues.
Cargill, Bunge, Molinos Rio de la Plata, Noble and Louis Dreyfus are among the grains exporters that operate in Argentina