Argentina promises legal actions against all companies involved in Falklands' oil industry
Friday, March 16th 2012 - 08:37 UTC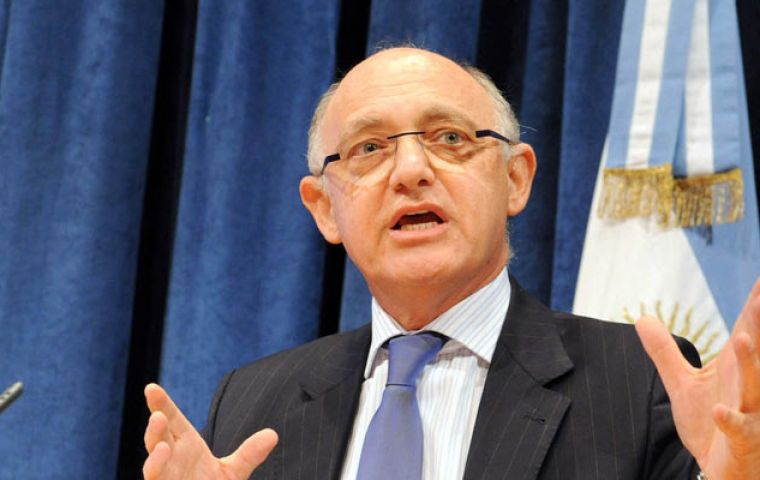 Argentina will take legal action at home and abroad against any companies involved directly or indirectly in hydrocarbons exploration off the Falkland/Malvinas Islands, Foreign Minister Hector Timerman said on Thursday.
Argentina claims Britain is flouting UN resolutions that call for talks and prohibit any unilateral action as long as the sovereignty dispute over the South Atlantic Islands persists. Timerman said offshore oil exploration amounts to a unilateral move.
At a news conference in Buenos Aires, the minister called the exploration and drilling activities "illegal" and announced Argentina will bring civil and criminal charges to sanction the companies involved in any way in support of the Islands hydrocarbons industry.
"With these actions we assume the responsibility of defending Argentina's natural resources," Timerman said. "The South Atlantic's oil and gas are property of the Argentine people."
Timerman said companies providing logistical and financial support to the search for Falklands' oil will be included in the suits, along with the Ocean Guardian and Leiv Eiriksson drilling platforms.
"Argentina understands that without the participation of many other actors, these illegitimate activities cannot be carried out," Timerman said.
In his presentation to the press Timerman showed a map of the Falklands with all the companies involved in support of the industry which were listed in three categories: oil companies directly involved; those that provide logistics support and those in the financial, auditing and even lobbying business.
"It's more than five companies and in multiple different fields. All of them are discrediting UN resolutions. When the UK grants illegitimate licences it is putting all those companies in an illegal position and they will have to stand up for their responsibilities", said Timerman.
"We want Britain to abide particularly UN resolution 2065, the first which talks about a peaceful resolution of the Malvinas sovereignty", underlined the Argentine official who then mentioned one by one the five oil companies involved in Falklands oil and gas exploration: Falkland Oil and Gas; Argos, Rockhopper, Desire and Borders and Southern.
"Legislation in the world indicates that those who recommend investments must explain the risks of which each operation entails, and therefore must report that they are recommending illegal operations", cautioned Timerman who went on to say that "We will warn all agents working on the stock market with the companies involved so that they publicize the dispute".
He stressed that legal action would be launched "not only in Argentina but also abroad through international judicial cooperation" and to boost their deterrent effect, "these actions will receive all the necessary publicity".
The listing of all companies involved was elaborated by experts in law and top officials from the Treasury Attorney's office, Revenue Office, Secretary of Energy and General Prosecution.
"Justice will determine the time involved, but Argentina won't let a day go by without a judicial action" promised Timerman who trusted "law will be respected and complied"