Drought punishing soy crops and yields in southern Brazil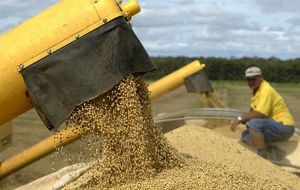 Drought over Brazil's southern soy growing states prompted analysts Agroconsult to strike 2.8 million tons from its forecast of the 2011/12 crop to 67.1 million tons from 69.9 million previously.
Agroconsult is the latest in a series of government and independent analysts who have pared back their estimates of this year's crop. The smaller crop out of Brazil, Argentina and Paraguay, which together account for about half the world's soy exports - has helped support Chicago soy futures and concerns of food inflation.
Brazil harvested a record 75.3 million tons in the previous crop, when rains were late but abundant over the grain belt. The southern growing states of Rio Grande do Sul and Parana produced record harvests.
Parana and Rio Grande do Sul, Brazil's No. 2 and No. 3 soybean-producing states have been the worst hit by drought this year, as La Niña patterns hold true to their tendency of creating drier weather over the Southern Cone grain belt.
Brazil's average soybean yields fell 14% to 44.5 60-kg bags a hectare from last year's record of 51.9 bags/ha. Yields in Rio Grande do Sul, where drought has been most severe over growing areas, are expected to fall 50%, Agroconsult said.
"The situation in Rio Grande do Sul was surprisingly more critical than initially imagined" said Agroconsult analyst Marcos Rubim. "And this week, it didn't rain... every day it goes without rain in the state, the situation worsens."
Parana yields fell 16% and other major states also registered lesser drops in productivity. Area planted with soybeans grew 3.7% to a record 25.1 million hectares the analysts' crop report said.
Brazil is in the peak of harvest that will carry on until May. The main centre-west growing states of Mato Grosso and Goias are well advanced in harvest, along with Parana. Rio Grande do Sul is getting started, as it traditionally has a later maturing crop.

Brazil's No.1 soy state of Mato Grosso revised lower its crop yield estimate. The state farm institute Imea slightly trimmed its crop estimate from an earlier forecast but the state is still expected to harvest a record crop of 21.98 million tons.