Poll shows 61% UK support for defending the Falklands; young voters not so sure
Tuesday, March 20th 2012 - 22:01 UTC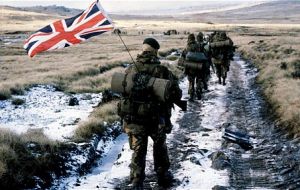 As the 30th anniversary of the beginning of the South Atlantic conflict approaches, a new poll conducted in the UK by the newspaper The Guardian has shown that British people are largely determined to defend the islands.
"A majority, 61% of voters say that 'Britain should protect the Falklands so long as the islanders want protecting, no matter what the cost,' the paper's online site reads.
According to the poll, only a 32% think the UK should be "ready to negotiate with Argentina over the eventual handover of this distant outpost of a forgotten era."
The Guardian states that the poll, conducted along with public opinion researcher ICM, included interviews across all social classes, regions and nations.
Conservative voters are the ones more determined to support the British government's stance on the islands, with a 78% of them rejecting a handover to Argentina.
Those figures decrease among Labour and Liberal Democrat voters, although they still remain considerably high, with 54% and 50% of them stating that they believe the Islanders must be defended at all costs.
Surprisingly, it is actually the younger generations who lean the most in support of an eventual negotiation with Argentina.
A 49% of voters aged from 18 to 24 say they support the possibility of a handover, "as opposed to 39% who take the contrary view."
On 2 April 1982 Argentine forces invaded the Falklands and 74 days later surrendered unconditionally to a Task Force sent by then PM Margaret Thatcher to recover them.