Argentina denies protectionism; claims imports in 2011 soared 30%
Wednesday, March 21st 2012 - 06:32 UTC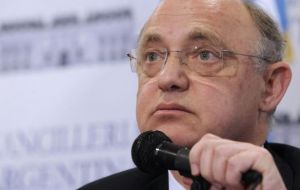 Foreign Affairs minister Hector Timerman said on Tuesday "there is no country" in the world that can say Argentina is protectionist and claimed it is the G20 member that saw imports soar most between 2010 and 2011.
The statement follows a barrage of complaints from local and foreign business people, and warnings of protectionism from the World Bank that claims there are growing obstacles to trade in Argentina.
"Argentina is one of the countries in the world which most increased imports: 30%, and among G-20 members the country which most increased imports", pointed out Timerman during a press conference to clarify the controversial issue which has gone beyond the region.
"Reality vs Interest: data on Argentine imports" was the title given to the press conference which took place at the Ministry's main offices, Palacio San Martin.
"There are people who prefer to have a small office and import instead of contributing to Argentina' real economy, to national industry and creating jobs for the people" said Timerman who rejected that the domestic market was short of inputs for industry and some prescription medicines.
According to the 2011 stats showed by Timerman only Colombia in the Americas saw its imports bill soar above that of Argentina
Timerman insisted that Argentina compiles with all international rules regarding trade with other countries and that the current measures to contain imports do not infringe any law.
"All decisions have been in the framework of WTO rules and the World's Customs Association", said the Argentine minister adding that at the same time "we have provided the country with the most modern technology" to improve the access of foreign goods.
"We have imported more than ever and nevertheless we continue to have a positive trade balance and that is because of our industrial strength, our commitment to invest in technology, equipment, machinery, helping those business people who want to invest in the country, contract workers and promoted domestic consumption".
Timerman said that those criticisms or questionings to policies that some perceive as hurdles can be traced to "vested interests" and underlined that "all those goods which can be produced in Argentina is important that they are manufactured here, because that means jobs for Argentines".
Since the beginning of last February Argentina demands all importers to present a sworn statement in advance of their imports' intentions, which is described as 'protectionist' by local and foreign business people.
The new restrictions or delays in granting or allowing imports together with a policy of imports' substitution has created serious clashes and irritations with the business community in Brazil, Uruguay and Paraguay, all full members of Mercosur and Argentina associates.
The Argentine Chamber of Importers argues that there are an estimated 100.000 imports' licences frozen at the Commerce Secretariat, in spite of having the green light from Customs.
"Argentina advances at its own great risk, towards commercial quasi-isolation with Mercosur and the rest of the world judging by the protectionist headlines they surprise us with every morning" said lawmaker Alfonso Gonzalez Nuñez, head of the Paraguayan representation before the Mercosur Parliament in a statement published in the Paraguay Senate portal.
Over the week end visiting Vice-president Hasan Tuluy warned that protectionism is impairing the economy of the region and could risk the targets of sustained growth and insisted that Latin America's main challenge is to improve productivity.
Measures that restrict trade "impact the whole world, we can also see it Europe, the US", said Tuluy during a busy weekend in Buenos Aires that also included an interview with President Cristina Fernandez.