Gibraltar exposed to a repeat of Spanish provocations from a decade ago
Wednesday, March 21st 2012 - 04:27 UTC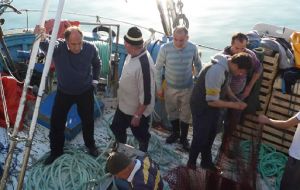 Gibraltar appeared to be heading back to scenes of over a decade ago: clashes with Spanish fishermen and politicians. On Monday evening the Spanish ruling Popular Party from neighbouring Algeciras Mayor, Jose Ignacio Landaluce, boarded the vessel 'Joaquina' backing a protest sail into Gibraltar waters.
According to the Gibraltar Chronicle dozens of fishermen were with the Mayor in what appears to be a response to the vessel being asked to move on this last weekend.
Local police sources said a Spanish fishing vessel was spotted 500 metres off Europa Point on Friday and had a Civil Guard vessel alongside. Approached by the RGP Marine section they were informed that they could not take executive action in Gibraltar waters and the vessels soon moved on. The vessels parted once the Spanish fishing boat was outside Gibraltar waters.
Mayor Landaluce declared Monday night that he was protecting the livelihoods of 300 fishermen who work on 70 boats which have been freely fishing in the area since the 1999 fishing row and subsequent agreement reached by then Chief Minister Peter Caruana.
Underlying the current tensions is the fact that Dr John Cortes, responding to concerns that the Spanish vessels are using illegal nets and methods, said that the law, essentially EU law, will be upheld.
Dr Cortes said that politicians cannot ignore the 1991 Nature Protection Act and that the RGP are aware that the Government stands by those provisions. In a statement Monday night Mayor Landaluce said that the Spanish fishermen had last week been told to move three miles beyond Gibraltar's shores and that the 1991 agreement was clearly being breached.
"I do not understand the attitude being taken by the Gibraltar Government but it will not be allowed that Campo fishermen be ejected from the Spanish waters that surround the Rock," he said.