Argentina has at least a three-tier foreign money market: formal, informal and 'cash overseas'
Friday, March 23rd 2012 - 22:51 UTC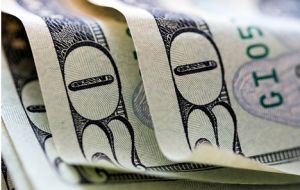 The strict foreign currency controls and restrictions on the purchase of US dollars in Argentina have created the traditional black or informal market and a more sophisticated option by acquiring dollar denominated assets which can be cashed overseas such would be the case of shares from companies trading in New York.
This "cash overseas" option reached 5.05 Pesos to the US dollar while the official rate stands at 4.34 and 4.38 Pesos to the greenback.
Last week the Argentine government had closed another option to mobilize foreign currency with a debit card. As of 3 April any Argentine resident wanting to extract foreign currency overseas must have a foreign money account in Argentina which is also exposed to heavy bureaucratic limitations.
Under the cash overseas option the asset must be traded overseas, and now the Argentine government is demands that a formal transfer request to sell overseas must be requested, and obviously the person must have a foreign currency account in Argentina.
The informal market dollar is now trading at 4.87/4.89 Pesos which is almost 50 Argentine cents above the official formal exchange of 4.34 and 4.38.
Argentina is running extremely short of hard currency to face international commitments and imports for domestic demand and industry, and has in the last six months clamped on all possible outflows of US dollars.
This has also led to serious rifts with trade partners because of the very slow process in letting foreign goods and inputs into the country.