Dakar rally confirms next edition along the Pacific, Chile and Peru
Friday, March 23rd 2012 - 00:41 UTC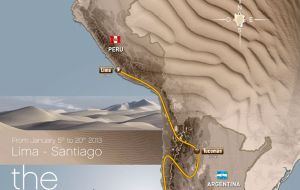 Dakar Rally's organization confirmed that next year's 35th edition of the world's most famous race will also be the 5th to take place on the South American continent, which has hosted the event since 2009.
Thus, from 5th to 20th January 2013, the competitors will follow the route between Lima in Peru and Santiago in Chile, with a rest day planned at San Miguel de Tucumán in Argentina. The desert will be on the programme from the first days of the rally, for the first time in its history.
Several weeks ago, the riders and drivers on the Dakar discovered the Peruvian version of the desert. Struck by its splendour but also its technical demands, in this setting of sea and sand, they experienced a highly intense sequence before the finish in Lima. For the next edition, the Peruvian capital will play host to the start of the rally, with the promise of holding an exceptional challenge in store for those who take part; one that is simply equal to the test they have to face each year.
At the end of the journey, the rally will finish for the first time in Santiago. Chile, which, in the Atacama, has been the theatre to most of the unpredictable developments during the last four editions, will have the opportunity to celebrate the heroes of the Dakar in its capital city.
Over the thousands of kilometres that they will have to tackle, the competitors will distance themselves from the Pacific Ocean as the event is spiced up by a detour via Argentina. On the other side of the Andes Mountains, the variety of terrains will put all the competitors' capacities to adapt to the test.
Registration will open for all the categories (bikes, quads, cars and trucks) on 15th May.