Uruguay's economy slows in fourth quarter but expands a "very good" 5.7% in 2011
Saturday, March 24th 2012 - 08:51 UTC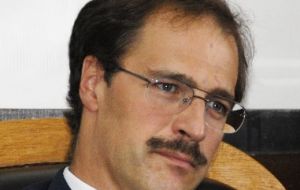 Uruguay's economic growth slowed more than economists forecast in the fourth quarter as a refinery closure and the start of a drought trimmed a nine-year expansion; nevertheless the Central Bank said overall expansion in the twelve months of 2011 was "very good" in the current global context and just short of government's target.
Uruguay's GDP expanded 3.5% in the fourth quarter from a year earlier, the Central bank reported while in the twelve months expansion was 5.7%, below the 6% target and down from a revised estimate of 8.9% in 2010.
"The rhythm of the economy slowed down a bit but Uruguay continued to grow strongly, above Latin America's average, which is very good" said Andres Masoller head of the Macroeconomic Advisory Department adding it was achieved "in a very complicated international context".
The closing of Uruguay's La Teja refinery for maintenance and a subsequent workers' strike slowed growth from August until the facility re-started in January. A drought that started at the end of the year and rising import barriers in neighboring Argentina and Brazil are hitting the 44 billion dollars economy more than expected.
The impact of the refinery closure represented a 7.9% drop for industrial activity and a fall of 41.4% in hydroelectricity generation.
"For the overall economy this represented a negative effect of 2% in the last quarter and 0.5% in the twelve months, so leaving aside these two factors activity performed as we had forecasted", said Masoller.
But Masoller admits that in the last few months of 2011, "there was a greater uncertainty regarding spending decisions of domestic consumers, plus a slower international demand for some goods and a lesser expenditure from tourism this summer season".
"There was a stronger slowdown than forecast" according to Pablo Moya, an economist at Montevideo-based Oikos Research Co that had forecast annual growth of 6.3%. "We will downgrade our growth forecast for 2012 to 4% or 4.5% from 4.7%",
Industrial production, excluding the closed La Teja oil refinery, rose 1.3% in January from a year earlier, the national statistics agency reported March 13. With the refinery included, December output fell 12.6% from a year earlier.
A strengthening currency that policy makers are counting on to help fight inflation will also help slow growth this year, Barclays Capital said in a March 8 report. Consumer prices rose 7.9% in February from a year earlier, above the central bank's 4% to 6% target range.
"The country's main economic challenge continues to be inflation, despite the authorities' willingness to reduce it," the Barclays said.
The Uruguayan peso has gained 2% against the dollar this year, compared with a 2.6% for the Brazilian Real and a 1.5% decline for the Argentine peso. A stronger currency may damp growth enough to bring inflation closer to target, Barclays said in its report.