Gibraltar and Spain in direct discussions to solve fishing controversy
Sunday, March 25th 2012 - 08:48 UTC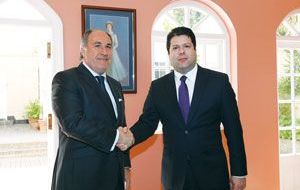 The British Government is understood to be supporting a local Gibraltar–Campo (Spain) fishermen resolution to the recent spate of exchanges over fishing rights in British Gibraltar territorial Waters.
So far London has not responded publicly to the protest lodged by the Spanish Foreign Ministry this week when it called in Robert Tinline, the commercial attaché at the British Embassy in Madrid urging UK to restore the position to that which existed after the GSD government's 1999 agreement with Spanish fishermen which took a flexible approach to fishing in local waters.
Spain has complained at the fishing boats being turned away from waters within the 3 mile radius.
Leading the protest in parallel to Madrid diplomats has been the ruling PP mayor of Algeciras Jose Ignacio Landaluce who chairs the Foreign Affairs Committee in the Madrid Parliament.
Under the old agreement - which the GSLP/Liberal Government says breaches Gibraltar's and EU environmental protection laws, vessels were tolerated if they stayed at least 225 metres from the shoreline.
Madrid described the summons as a traditional diplomatic move.
Following his meeting with Chief Minister Fabian Picardo last Wednesday, Landaluce said he had taken a sensitive approach to the situation to try and avoid provoking and "sterile aggression".
A meeting between Gibraltar's environmental authorities and the fishermen was agreed at Wednesday's meeting at No 6 and is still pending. A UK source suggested that this was a good first step to resolving the issue.