Printing money does not lead to inflation, argues Argentine central bank president
Monday, March 26th 2012 - 08:59 UTC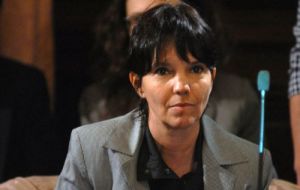 The president of Argentina's Central Bank (BCRA), Mercedes Marcó del Pont, stressed the importance of the recently approved bank's charter reform and denied that printing currency leads to the creation of an inflationary state "since inflation is rooted in other causes".
"The new charter will provide the government with more tools to deepen the development model and to give priority to investment credit" said Marcó del Pont in a Sunday interview with two pro-government local newspapers Página 12 and Tiempo Argentino.
The banker added that "it is totally false to say that printing more money generates inflation, price increases are generated by other phenomena like supply and external sector's behaviour".
In that sense, the BCRA president explained that "the priority right now is the investment credit, because it is one of the issues in which Argentina is still with insufficient coverage. We look for credits of longer-term investment plans at reasonable rates with the return of these investment projects."
"We discard that financing the public sector is inflationary because according to that statement the increase in prices are caused by an excess of demand, something we do not see in Argentina. In our country the means of payment are adjusted to the growth of demand and tensions with prices must be looked on the supply side and the external sector".
Marcó del Pont remarked that criticism of the way the state is funding itself "have a clear ideological condiment, it is that or either the public sector has to make adjustments or go abroad to get credits and/or loans". She added that the debate is very similar to that referred to "the use of BCRA reserves to pay for sovereign debt".
Under the new charter of the bank the primary and main task of the BCRA will not be only to preserve the value of the currency but must also include inflation, jobs, economic development with social fairness, financial stability and the need to coordinate with government policies.
"We're recovering the sovereign capacity to formulate and implement economic policy", said Marcó del Pont who anticipated some pictures will be coming down from the bank's hall of fame "beginning with Milton Friedman."
The banker explained that the criteria to determine the optimum level of reserves will be determined in coming days and will involve several existing and new elements. Under the new BCRA charter funds above the 'optimum level' can be used for other purposes such as development financing.
"The formula will include issues referred to imports, short term foreign debt payments, the evolution of bank deposits and accumulation of foreign currency assets", said Marcó del Pont who forecasted that in the first quarter the sum will be below two billion dollars but for the whole year the sum is estimated in 9 billion or more.