Relief for Dublin? Ireland on the verge of becoming significant producer of oil
Monday, March 26th 2012 - 09:23 UTC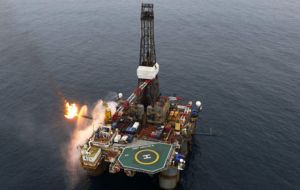 The euphoria around a small-to-medium oil discovery off the southwest coast of Ireland may be overblown but the country could yet become a significant producer if it can replicate the drilling success in much deeper waters to the west
Providence Resources made headlines around the world and sent its shares soaring last week by announcing that flow tests on its Barryroe field showed it could yield "significantly" more that its earlier estimates of 20,000 barrels per day and reserves of 60 million barrels of oil.
The Barryroe find is one of a number of discoveries made in the 1970s and 1980s but which were deemed to be too small to be developed economically.
Higher oil prices and new technologies, such as more detailed seismic surveys and horizontal drilling, can now allow the oil to be extracted at a profit.
Providence predicted the find could spur the development of other fields in the Celtic Sea and, after decades of fruitless searching, leads to an Irish oil boom.
The prospect of additional tax revenues and a dent in the country's 160,000 barrels per day of oil imports was a boost for economically challenged Ireland.
But for many in the industry, more excitement is focused on the much less explored blocks far off the West Coast. The Irish government estimates that what it calls the Irish Atlantic Margin could have "potential" oil and gas reserves of 10 billion barrels of oil equivalent.
"The geological structures in the Celtic Sea are small and fractured," said Fergus Cahill, chairman of the Irish Offshore Operators' Association. "But the geological structures off the West Coast are bigger".
Tempted by such a prize the largest non-government-controlled oil company in the world by market value, Exxon Mobil, Italian oil major Eni and Spain's Repsol have bought into the Dunquin exploration block in the Porcupine basin.
Providence, which first acquired the licence for the Dunquin block and retains an interest, said the block has prospective recoverable resources of 1.7 billion barrels.
Rival San Leon Energy estimates its block nearby could have 1 billion barrels of oil in place.
The finds will need to be big to be economic. While the Celtic Sea finds sit in around 100 metres of water, the Dunquin block has depths of 1,600 metres.
The Exxon-led team at Dunquin plans to drill a well next year and industry sources say it will likely cost in excess of $100 million.
"It's a question of cracking the code in a massive area," Providence Chief Executive Tony O'Reilly said.