Chavez health situation more serious than revealed, says top specialist
Tuesday, March 27th 2012 - 12:23 UTC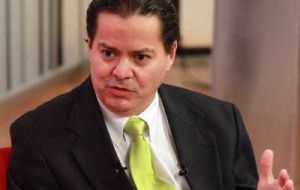 A recognized Venezuelan intensive care doctor revealed in an interview with a Spanish newspaper that President Hugo Chavez has a tumour with three metastasis that have expanded to his liver, suprarenal glands and bladder.
Doctor Jose Rafael Marquina who lives in Florida and is a professor at the Nova University and consultant for several Venezuelan intensive care clinics, told ABC from Madrid that he has 'first hand' information of the Venezuelan president health from specialists working close to him.
"Chavez has a cancerous tumour which has extended to three metastasis, in the liver, suprarenal glands, retroperitoneal space and the bladder", said Dr. Marquina.
"When they called to tell me Chavez had a new two centimetres tumour and he had to be intervened in Caracas, he chose to have treatment in Havana where a laparoscopy was practiced. They then realized how advanced cancer was and decided to eliminate just the necrotic tissue. They did not extract the suprarenal glands fearing complications", explained Marquina.
The professor said that once Chavez returns to Caracas he will have to undergo 30 radiotherapy sessions and not 25 as he had announced.
"In Cuba he underwent ten sessions and Chavez did not respond to treatment. The problem is that the Cubans did a lousy disorganized work, since they did not 'tattoo' the area which had to be exposed to treatment".
Asked if Chavez could be treated with chemotherapy Marquina said "probably they will" but "I haven't that piece of information yet".
Marquina said Chavez needs 60 days of complete medical rest so that proper treatment can be applied followed by a tomography which will reveal the results of the radiotherapy.
"If he does not, it would be most irresponsible both as head of state and as father of a family. If there is not an improvement in 60 days he should spend the remaining days of his life with his family and name somebody take over the presidential campaign".
Although Marquina does not belong to the medical team of Chavez he took an interest in the issue when last February Chavez admitted he had a new two centimetres tumour.
"I knew he was not saying the whole truth so I started to send messages in the net, and with no before hand intention I have become an authority on the issue. Given my credibility and reputation, I am consulted by members of the Chavez government with whom I went to school and at the University of the Andes. I advise with no other interest than that he gets the right treatment", concluded Marquina.
Even when information on President Chavez health is hard to confirm, Marquina's interview seems to coincide in some aspects with the recent messages released by Wikileaks on the Stratfor intelligence analyst firm.
In effect, the controversial website released one from December 2011, describing how Russian doctors blamed Cuban medics for botching Venezuelan President Hugo Chávez's first cancer surgery and how they had to "clean up the Cuban team's mistakes."
According to the report, Cuban doctors thought Chávez had two years to live, while the Russian team gave him one year.
The analyst who wrote the report said her source was a "well connected" Venezuelan who is "anti-Chávez" and "working with Israel." She gave him a "B" rating and said some of his information about the administration had checked out in the past.
However Stratfor CEO and Founder George Friedman at the time of the leaks warned that some of the emails may be forged or altered to include inaccuracies and that the organization would not verify any of the communications.
Furthermore ABC is a conservative newspaper which for decades has been linked to Spain's right wing groups many of whom look back with tears in their eyes to the years when General Francisco Franco was dictator.