Import barriers and inflation change Argentina's industrial production scenario
Tuesday, March 27th 2012 - 12:11 UTC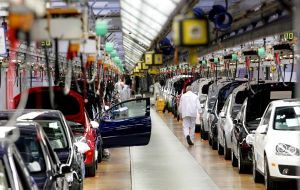 Argentina's industrial production fell unexpectedly in February, after 28 consecutive months of expansion, as weaker demand from Brazil hit the key automobile sector. Industrial output fell 0.8% from February 2011 and slid 1.4% from the previous month, said Indec.
During the first two months of the year it accumulated 0.6% increase over the same period in 2011.
Automobile production rose almost 29% on the year to 54,159 vehicles, though raw steel output increased just 2.2% to 450,000 metric tons.
Research firm Orlando J Ferreres & Asociados's closely watched industrial production report put the annual increase in activity at 3.3% last month. The bounce in February was enough to put industrial output back at October's levels, it said.
"Nonetheless, it's difficult to know if [manufacturing] is back on an upward path given import barriers that have limited industrial growth and the slowdown in foreign trade," economists at OJF, as the firm is known, said in the report.
Argentine factories are heavily dependent on imported goods for their production processes and the massive Brazilian market as an end buyer.
Brazil's economic fortunes this year will have a big impact on Argentine manufacturers, especially auto makers that ship about half of the vehicles that roll off their assembly lines to the Portuguese-speaking country.
Exports of industrial goods to Brazil fell 8% on the year to 709 million dollars in February. On the home front, manufacturers will likely have to agree to double-digit salary increases for their heavily unionized work forces due to annual inflation that most private-sector forecasts say is between 20% and 25%.