Prince Charles and King of Norway visit HMS Liverpool in Bergen
Tuesday, March 27th 2012 - 12:08 UTC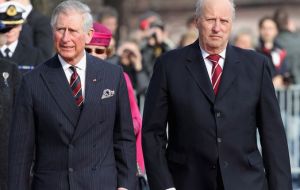 Prince Charles and the King of Norway have visited HMS Liverpool in Bergen as she finishes her final exercise for the Royal Navy. The Type 42 destroyer is being decommissioned after 30 years and will be sailing into Portsmouth for the final time flying her decommissioning pennant.
Liverpool's final task has been to support HMS Illustrious and Bulwark in winter war games in the fjords of Norway on Exercise Cold Response.
The exercise has seen 16,000 personnel from a dozen nations, including the host, Norway, and warships from half-a-dozen navies, play out complex manoeuvres at sea and on land over ten days, practising the art of putting a sizeable amphibious force ashore in the harshest environment imaginable.
Prince Charles and King Harald discussed the ship's recent experiences during operations in Libya where her main gun fired more than 200 rounds in support of the NATO and UN mission providing protection for the Libyan people.
Prince Charles told the assembled members of the ship's company: "It's taken me some time to discover what you were up to out there - and how you were being fired at. It seems a great deal more hairy than we imagined."
HMS Liverpool has visited Bergen for three days, coinciding with an official visit to the country by the Duke and Duchess of Cornwall.
As well as visiting Liverpool, Prince Charles and King Harald toured the M/V Brennholm to see the work the Institute of Marine Research is doing to encourage sustainable fishing, not least replenishing severely-depleted cod stocks.