Guess why Argentina restricts book imports: possible lead poisoning from ink
Thursday, March 29th 2012 - 04:24 UTC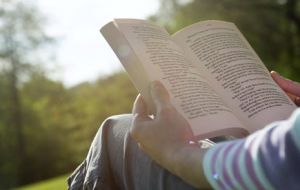 Argentina does not ban the import of books, the latest measures have been implemented to safeguard human health since handling books could entail dangers originated in the lead content of the inks with which they are published.
The remarks regarding the latest restrictions on books and graphic materials imports belong to Juan Carlos Sacco, member of the Argentine Industrial Union, UIA, board who said handling overseas books with inks containing lead in quantities above 0.05% and 0.06% are threatening.
Following on the latest ruling each book purchaser will have to check at the Ezeiza airport Customs office that ink for printing the books must not contain more than 0.05/0.06% in its chemical composition.
"Resolution 453 is environmental" said Sacco because handling books with lead contents above the limits established can be dangerous: "you handle the book and possibly wet your finger with your tongue to turn a page: that can be very serious for human health", underlined the entrepreneur.
Sacco insisted that there are no restrictions or limits to the import of graphic materials.
"There is not the minimum mention in any part of the regulations which states a ban on the import of books or bringing books from overseas", said Sacco who nevertheless admitted that the resolution yes, has the intention of promoting printing of books in Argentina.
"In the last five years book imports totalled 140.00 tons equivalent to 550 million dollars. And in 2011 the misbalance was approximately 78% which represents a deficit of 125 million dollars", underlined Sacco.
The latest restriction is particularly cumbersome and fatiguing for Argentine who purchase their books through a courier, since they will no longer be delivered at home but they will have to be claimed at the airport.
Besides big importers such as editorials and bookstores will have to appeal to the services of a customs broker and must before hand, present their import sworn statement that as with all Argentine imports can be approved or rejected.
Likewise the ink's lead content becomes effective next July when samples will be taken from the incoming books and analyzed at special labs.
The purpose of resolution 453 is "to safeguard the security of the population through several control mechanisms used to eliminate the risks which result from the use of inks with high contents of lead in graphic materials".
However the resolution does not mention if similar controls on lead content in inks will be applied to the domestic printing and graphic industries.
The resolution has been questioned by several Argentine experts in constitutional law arguing it clearly violates enshrined rights such at the freedom of expression and the free circulation of ideas.