German V2 rocket from World War II found in east coast of England
Friday, March 30th 2012 - 16:49 UTC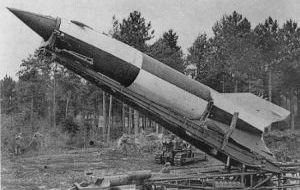 A German V2 rocket from World War II has been found nose down in the mud flats at Harwich Harbour in the east coast of England. Royal Navy divers said it was buried vertically with about 1.5m of its tail exposed at low tide.
Bomb disposal teams looked at the rocket at low tide as they try to work out how much more is buried and if it is still dangerous. The discovery of the rocket was reported to Essex Police by a local sailing club.
A Royal Navy diving team arrived at the site on Wednesday evening but could not get near it until Thursday morning.At low tide, the team said, it was about 200m from the shore near Harwich Yacht Club.
Lt Dan Herridge, who was there with the Royal Navy diving team, said: "We coupled our images together with some documents we have and got a second opinion from our technical information centre and were able to confirm it as a section of a V2 rocket."
The V2, which was used by the Germans from 1944, was 14m long, but until it can be excavated, the bomb disposal teams have no idea how much is left or whether the explosive tip is still attached.
Lt Herridge said: "We've got as deep as we can and have called for more resources to excavate further and ascertain whether there are any aspects of the weapon which pose a danger to public safety.
"It's going to be a logistically demanding job and we've got about an hour either side of low-tide, but there are various options, methods and equipment that we can use to extend that, but that's something we're going to look into."
The Army's Royal Engineers are expected to join the excavating equipment.
A spokesman for Essex Police said: "Appropriate action will be taken when bomb disposal experts have finished their excavation". (BBC).